The Blu-ray Disc player's in the den, but you want to watch the movie on the HDTV in your bedroom. What are your options? ActionTec at CES announced a kit that promises to let you access your high-def media in any room within 802.11n Wi-Fi range of the source.
The ActionTec MyWirelessTV kit is expected to debut this spring with a suggest retail price of $200. It will be one of the first consumer electronics to incorporate Cavium Networks' Wi-Vu technology, which uses 802.11n Wi-Fi on the 5ghz band, but with sophisticated quality-of-service features intended to mitigate problems commonly associated with attempts to stream high-definition media wirelessly.
The kit will consist of a transmitter that you'll attach to the HDMI port of the high-def media source (e.g. the Blu-ray player, set-top box or game console), a receiver that will hook up to an HDMI input on the display, and a remote control that will let you manage multiple video sources if you buy more than one transmitter. (Because the product is still in design, the mock-up used in product photographs does not include a remote.)
The transmitter will have pass-through HDMI support so that you can still hook up the video source to a nearby set. And the receiver has a USB inputs so that you could hook up a mouse and keyboard to control a remote PC.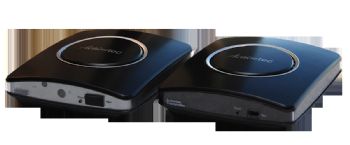 Using Wi-Fi for streaming media, even fast Wi-Fi on the relatively uncrowded 5ghz band, can be problematic because of interference and latency issues. But Cavium Networks' technology promises to closely monitor and rapidly respond to changing network conditions, based on the type of content being streamed. For example, if you're playing a game where low latency is of prime importance, Wi-Vu will temporarily reduce image resolution if need be; if you're watching a movie, however, Wi-Vu will strive to maintain image quality.
It all sounds very good, but we'll be interested to try out MyWirelessTV for ourselves when the product is finally ready.
Cavium Networks, by the way, announced that a number of consumer electronics vendors will be integrating its technology into their products. Among other things, it has the advantage of not requiring installation of a new type of wireless chip, which isn't the case with competing technologies such as WirelessHD.
Check out our complete coverage of CES 2011.