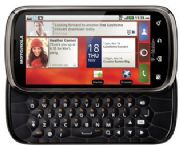 Remember the Cliq? Yep, Motorola's very first MotoBlur Android social networking phone that came out way back in October 2009. The 4G Cliq 2, debuting on January 19, also features MotoBlur but its specs are worlds beyond the original. Thankfully, the Cliq supports T-Mobile's faster HSPA+ network.
Like the original Cliq, this Cliq 2 is designed to help you balance your social life as well as your work. It has a full-QWERTY keyboard as well as customizable work, weekend and home profiles. It sports a 3.7-inch high resolution edge-to-edge screen and a 1 GHz processor, as well as a 5-megapixel camera.
According to Motorola, it will come preloaded with Amazon Kindle, the Blockbuster application (like most T-Mobile phones), and will run Android 2.2 with Adobe Flash Player 10.1 support.
And yes, the Cliq hooks into the MotoBlur service, which stores all of your contacts, messages, photos, and more on a cloud-based server. It is much more businesscentric than the original Cliq (which felt kind of teenager-ish) with business-ready features like a mobile hotspot, Exchange support, enhanced security features, and Wi-Fi calling.
The other two phones that support HSPA+ on T-Mobile are the G2 and the T-Mobile myTouch 4G.
We're about to go get our hands on the Cliq 2 so watch out for a full hands-on look with pictures and first impressions.
Updated post with 4G details.
Check out our complete coverage of CES 2011.