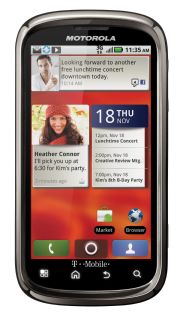 When the Cliq came out way back in fall of 2009, I was pretty impressed with it. It was the third Android phone to debut in the United States and the first from Motorola. What I liked best about it, though, was how much thought Motorola put into its design. The Cliq 2, debuting on January 19, makes the first Cliq feel like a child's toy.
Design-wise, the Cliq 2 is sturdier with a more sophisticated look. It is less plasticky than the original and feels very nice in hand. I loved the original Cliq's keyboard with the dome-shaped keys and the Cliq 2 definitely improves upon this concept. The Cliq 2's keyboard sort of resembles a honeycomb; in fact, a product manager told me its design is inspired by nature. Rather than individual keys with space in between them, the keyboard is one solid piece. It it sort of hard to explain, but perhaps you can see what I mean from the pictures. I was able to quickly bang out a long message with no trouble at all.
In Video: The Motorola Cliq 2
The new MotoBlur interface running over Android 2.2 is interesting. The multiple profiles for work, home and play sort of remind me of another phone on T-Mobile, the HTC-designed myTouch 4G. It is definitely nothing like the gaudy, annoying MotoBlur interface with the text bubbles we saw on the original Cliq.
Performance was hard to judge. We weren't picking up a 4G signal when I got my hands on it and I think my unit was low on batteries. It seemed pretty responsive though; the combination of a 1GHz processor, Android 2.2 and HSPA+ is a killer combination.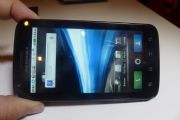 The lighting in the press room was horrid so the photos I took with the Cliq 2's 5-megapixel camera looked pretty fuzzy. Pricing has not been announced for the Motorola Cliq 2, but it will be available from T-Mobile January 19.
Check out our complete coverage of CES 2011 .