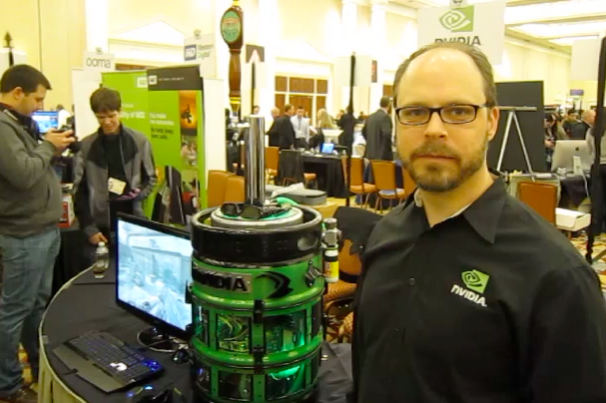 Digital Experience plays host to all manner of impressive gadgets. With so much on display, it becomes easy to get a little distracted by the volume of the latest and greatest hardware. Not so for this intrepid journalist. While on the hunt for Sandy Bridge PCs I was instantly smitten by a case mod dear to my own heart. Behold, Nvidia's Keg Computer. See the video after the jump.
The Keg Computer is powered by an Intel Sandy Bridge processor, a pair of GTX 580 graphics cards inSLI, and a solid state drive. Its users are powered by delicious Sierra Nevada Pale Ale, which delivers a slightly different (but no less potent) blend of bleeding-edge performance. The Keg Computer is attached to a 27-inch 3D Acer monitor; when you haven't equipped Nvidia's 3D glasses, it doubles as a near-perfect facsimile of beer-goggles.
In an impressive show of foresight, the business (read: beer-holding) end of the Keg Computer can be detached from the number-crunching base, allowing you to haul the tasty beverage away while your friends continue to play.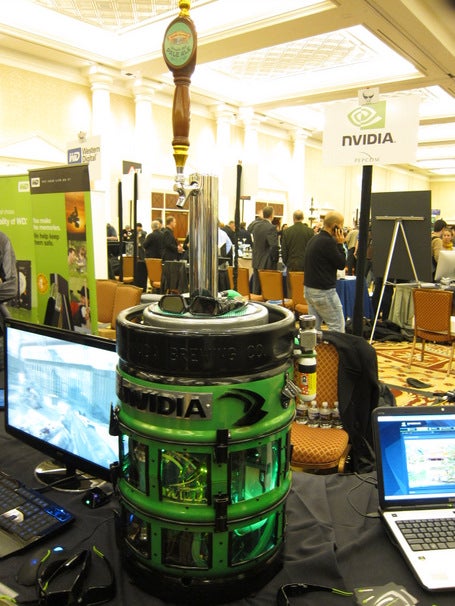 Alas, the Keg Computer isn't going to be on sale any time soon. But the next time you pick up a tasty beverage, think of the possibilities.
Like this? You might also enjoy…
Follow GeekTech on Twitter or Facebook, or subscribe to our RSS feed.