Apple is revving up for today's public launch of the Mac App Store, according to reports, and a sizable collection of applications is expected to be available. Evidence shows that the new releases will include the 2011 version of the iWork productivity suite and Tweetie for Mac 2.0.
Apple announced last month that the Mac version of its popular App Store for iOS devices would launch on January 6. The company said the store would be available in 90 countries at launch, with both paid and free applications in six categories (Education, Games, Graphics & Design, Lifestyle, Productivity, and Utilities). The date has now arrived, and Jim Dalrymple reports for The Loop that the timing for the launch is expected at noon Eastern Standard Time.
The Mac App Store will use the same iTunes account credentials as the iOS App Store, and will allow you to run any apps you purchase on any of your personal Macs, taking away the hassle of imputing serial numbers and licensing multiple computers. Another advantage of the Mac App Store is that the store itself will keep track of application updates, and will notify you, as with the iOS App Store.
Promotional material on Apple's website shows that the iLife suite will be sold in the Mac App Store, just not in a package, but by individual app. iPhoto, Garageband and iMovie are listed as $15 each, but it's unclear whether Apple will charge for annual major updates to the apps.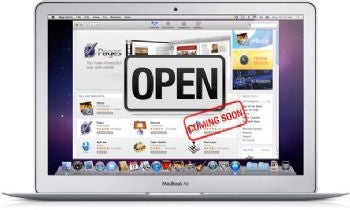 Also, evidence uncovered by 9 To 5 Mac shows that Apple could also introduce iWork 2011 with the Mac App Store. In Apple promo shots, individual apps from the iWork productivity suite (Pages, Numbers, Keynote) are listed as $20 each in the App Store. Another site, Razorianfly, posted a screenshot of what looks to be a new version of Twitter's official client for Macs, also set to be available in the Mac App Store.
Finally, as Apple prepares to launch the Mac App Store a rival effort is underway by Cydia to offer a similar unofficial store. Cydia is an extremely popular app store alterative destination for the estimated 10 percent of owners of jailbroken iPhones.
Follow Daniel Ionescu and Today@PCWorld on Twitter