All the world may be agog over the iPad and its Android-powered competitors, but a new class of tablets is emerging that's made of tougher stuff. They're rugged tablets, and they've been spotted both at CES and beyond.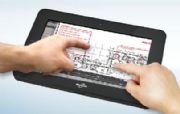 Motion Computing, for example, unveiled on Wednesday its Motion CL900, a rugged tablet due in the second quarter that's designed to withstand harsh conditions. Powered by Intel's upcoming "Oak Trail" Atom processor, the device will run Windows and feature a 30GB or 62GB solid state drive along with up to 2GB of RAM.
Targeting medical, construction, retail, and other fields with potentially taxing conditions, the device weighs only 2.1 pounds and is less than 16mm thick. It features an IP-52-rated exterior for protection against dust, moisture, and other elements as well as a Corning Gorilla Glass display for durability and scratch resistance.
The CL900 is designed to withstand the four-foot drop test of the MIL-STD-810G specification, and its battery is built to last up to eight hours for uninterrupted productivity. An optional feature on the device is integrated Gobi 3000 mobile broadband with GPS, 802.11 a/b/g/n WLAN, Bluetooth 3.0, and a wireless SIM port for advanced communications.
Pricing will be less than $1000, Motion says.
Targeting Healthcare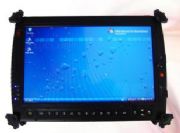 Targeting healthcare professionals specifically, meanwhile, is the new MedTab rugged tablet PC debuted by Rugged Notebooks on Tuesday.
Powered by an Intel Atom N270 1.6GHz processor, the 4.1-pound MedTab features four large rubber "bumpers" fastened to the corners of the unit to protect the LCD screen, which can accept input via either touch or stylus. The device's 250GB hard drive is shock-mounted, with the option of a solid-state drive and up to 2GB of RAM.
Featuring a ventless, full magnesium alloy case and sealed ports and connectors, the Windows-based device is built to withstand the drop, shock and spill tests of U.S. military 810F and 810G standards. It also boasts an IP65 rating for water and dust resistance and offers protection against liquids common in medical environments such as blood, alcohol, bleach, and iodine. Pricing starts at $2549.
Benefits for Mobile Workers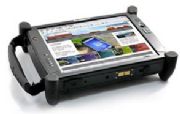 Last but not least, Taiwanese Samwell Group–also on hand at CES this week–offers rugged tablets, notebooks, and PDAs as well as a semi-rugged PC. Samwell's rugged tablets include the SR820, SR800 and MCA9 models, all featuring magnesium alloy enclosure, rubber bumpers and the ability to withstand shocks and drops.
It seems fairly clear by now that tablets are here to stay, so it makes good sense to see them getting adapted to different work applications and conditions. For any company that routinely conducts business in a variety of environments, these rugged tablets could provide a compelling solution.
Check out our complete coverage of CES 2011.
Follow Katherine Noyes on Twitter: @Noyesk.