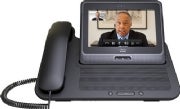 Verizon Wireless will introduce Cisco's Cius tablet for its fast LTE mobile broadband network in the spring of 2011, and the companies will also offer LTE interfaces for Cisco's second-generation Integrated Services Router for small and medium-size businesses.
Cisco announced the Cius enterprise tablet last year and plans to begin shipping it in March. Verizon will be the first carrier to sell the Cius, the companies announced on Thursday at the International Consumer Electronics Show in Las Vegas. Verizon's LTE (Long Term Evolution) network, launched in 37 markets in December, is now available to one-third of the U.S. population, according to Verizon.
The Cius will have 3G capability on Verizon as well, for connectivity where users cannot get LTE.
The Cius uses Google's Android OS and is designed to run Cisco collaboration applications, including video and other forms of communication, as well as other Android applications. It has a 7-inch diagonal touchscreen and includes Wi-Fi as well as mobile broadband capability.
The LTE interfaces for Cisco's ISR (Integrated Services Router) will allow enterprises to run bandwidth-intensive application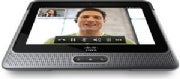 s in locations where wired Internet connections are inconvenient or not available, opening the door to possibilities such as video-enabled automated teller machines and retail kiosks, the companies said in a press release.
The ISR platform is designed as an all-in-one connectivity platform for small and medium-size businesses and remote offices, with slots for a variety of modules for different functions. It has already been offered with 3G interfaces for remote or failover Internet connectivity.
Tablet Data Plan to Come
Verizon is still studying what data plans it may offer for Cisco's tablet, said Chris Kemmerer, an associate director at Verizon responsible for unified communications and collaboration. Because it is designed specifically for collaboration applications such as high-definition video and Cisco's WebEx conferencing service, in a business setting, users could consume a very large amount of data monthly, he said. Verizon expects almost all the tablets and data plans to be managed and paid for by employers.
The Cius is different from other tablets in that it is designed primarily for business use, with employers being able to control personal use, said Mark Lohmeyer, vice president of product management for Cisco's Services Routing Technology Group. It will be sold exclusively through Cisco resellers.
Verizon advertises downstream speeds of 5M bps (bits per second) to 12M bps on its LTE network, as well as much lower latency than on a 3G connection. With those kinds of speeds, some enterprises may be able to use LTE as the primary Internet connection to an ISR, Lohmeyer said. For example, an agency that operates toll roads is considering using the ISR to exchange data about toll collection as well as for video surveillance and digital signage, using LTE to connect booths to the Internet, he said.
The LTE module will be offered exclusively for the second-generation ISR, which was introduced in late 2009. The first-generation ISR is still available, but nearly half of the units sold today are the newer models, according to Cisco. There are more than 8 million ISRs currently installed. The company introduced 3G interfaces for the ISR in 2007, giving users the option of using Verizon, Sprint Nextel and AT&T networks in the U.S. and Telefonica Moviles in Europe.
As with the 3G modules on the ISR, enterprises will be able to reach their private IP MPLS (Internet Protocol Multiprotocol Label Switching) networks on Verizon from the ISR using the 4G connection. This is thanks to Cisco's Dynamic Mobile Network Routing technology, Verizon's Kemmerer said. Wireless traffic from the router will go through the Verizon cellular network but then be transferred to the private MPLS network via a gateway, he said. This will provide high security without the need for a separate VPN (virtual private network) and let the enterprise take advantage of the same traffic-traffic routing rules used for its other traffic, Kemmerer said.
Verizon will show off the ISR and Cius offerings at its booth at CES through Sunday.
Check out our complete coverage of CES 2011.
Stephen Lawson covers mobile, storage and networking technologies for The IDG News Service. Follow Stephen on Twitter at @sdlawsonmedia. Stephen's e-mail address is stephen_lawson@idg.com