T-Mobile announced this morning that it plans to double the speed of its HSPA+ networks and unveiled a line-up of new 4G products including tablets and phones.
The company expects 140 million Americans in 25 metro areas to have access to these increased 4G speeds by mid-2011. According to the carrier, the faster data speeds will also benefit customers stuck with 3G phones.
Announced yesterday, the T-Mobile GSlate by LG with Android Honeycomb and the Motorola Cliq 2 are just the beginning of the 4G devices we'll see from T-Mobile this year. Additionally, the Dell Streak 7 will join the T-Mobile myTouch 4G and the T-Mobile G2 in T-Mobile's line-up of HSPA+ devices.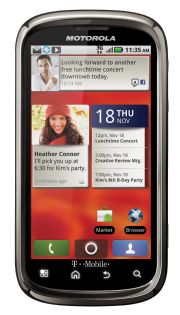 T-Mobile's 4G network is not LTE; it is actually HSPA+. Data speeds on par with LTE networks can be achieved over the network, but the technology is not actually considered "4G" by IEEE standards. AT&T is playing this similar marketing trick with the HSPA+ phones it announced at yesterday's Developer Forum. Will U.S. consumers know the difference between LTE and HSPA+? Probably not.
The moniker "4G" implies faster and T-Mobile's HSPA+ network is certainly faster than its 3G network but right now, it is quite uneven in terms of coverage. When we tested the T-Mobile G2's data speeds in several neighborhoods in San Francisco, we found the "4G-like" speeds of T-Mobile's HSPA+ network (4 to 6 mbps on downloads and 1 to 2 mbps on uploads) in roughly half of them.
We'll be getting our hands on some of these new HSPA+ devices so stay tuned for photos and our first impressions.
For more up-to-the-minute blogs, stories, photos, slideshows, and video from the nation's largest consumer electronics show, check out PC World's complete coverage of CES 2011.