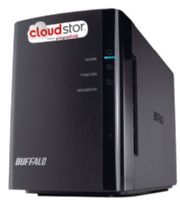 If you want the flexibility of cloud-based storage without the worries that come with storing your important data on someone else's servers, the new CloudStor network-attached storage device from Buffalo is worth a close look. Using Pogoplug's software, the CloudStor lets you serve up files, photos, and multimedia over the Web to any of your devices. So when you're on the go, it's just like being back in your home office.
Announced today at CES in Las Vegas, the CloudStor is a slim desktop NAS device with the added benefit of online file access. The drive shows up as a system drive on your PC, with a drive letter just like any USB-attached device. But when you take your laptop on the road, that drive remains available as long as you have an Internet connection.
Priced at $170 for the 1TB model and $270 for the 2TB model, the CloudStor is aimed at the home and small-office market, and features streaming technology that allows you to view video content stored on the drive quickly, rather than waiting for it to transfer over the Net, which makes it easy to use and cuts down lag time when you're accessing files on the go.
As an alternative to hosted cloud storage, the CloudStor can give some peace of mind to business users who are wary of leaving their files on someone else's server. All your data lives exclusively on your personal drive, not on the Web. So you don't have to worry about a cloud service provider going belly-up and taking your files with them.
Check out PCWorld's top 10 network-attached drives.
In the video below, I talk with Buffalo Technology rep Jay Pechek about the CloudStor's business prowess.
In Video: CES Brings Smaller HD Projectors and Flexible NAS Storage to Small Business
Check out our complete coverage of CES 2011.