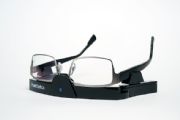 Can electronics improve eyewear? A company called PixelOptics says it has developed technology that can make better glasses for people who wear progressive or bifocal lenses to correct for both distance vision and close-up problems that many experience beyond age 40.
PixelOptics at CES is demonstrating its EmPower electronic eyewear, which it plans to begin producing in April.
Traditional progressive and bifocal lenses correct for distance viewing when you look straight ahead, and reading when you look down. EmPower glasses correct for distance vision only unless you activate reading mode, which changes the molecular structure of a transparent, liquid crystal layer in each lens. You can do this either manually by pressing a tiny button in the temple of the frame, or having the adjustment occur automatically when tiny accelerometers sense that you are looking down.
PixelOptics founder Ron Blum says the transition between distance and reading modes occurs practically instantaneously. And because the entire lens corrects for distance vision when it's not in reading mode, the glasses "provide a wider field of view, less distortion and alleviate common side effects" people experience with traditional progressive and bifocal lenses, the company says.
The sophisticated electronics that manage the correction are all contained in the frames, which come with a charging base. The company expects to offer some 18 models at launch.
As usual, tech enthusiasts will pay to be early adopters: The estimated cost of a pair of EmPower glasses will be $1200.
Check out our complete coverage of CES 2011.