Let's say this idea appeals to you: Having a PC case that monkeys might march around while swinging clubs (honestly, who isn't attracted by that idea?). But let's say you'd like it to look even cooler.
In steps the Zalman GS 1200, a monster case that would look just like the black stone obelisk in "2001: A Space Odyssey" if it weren't for the four big fans equipped with blue LEDs on the front, side, and top. And while the GS 1200 isn't quite as silent as the 2001 obelisk, it's darn close thanks to Zalman's cooling fans that stress quiet running.
The GS 1200 accommodates seven hot-swappable hard drives. There are four USB ports (including one USB 3.0) conveniently located on the top of the case, along with an eSATA port. The case also has tube apertures in case you want to set up water cooling.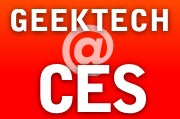 Zalman showed off the GS 1200 at their suite here at CES. The case isn't available yet in the U.S., but should be in the second quarter of the year.
Check out our complete coverage of CES 2011.
You might also enjoy…
Follow GeekTech on
Twitter
or
Facebook
, or subscribe to our
RSS feed
.