It looks like Razer is trying to get into the handheld console gaming business–except with PC games. Razer's portable gaming concept prototype (codenamed "Switchblade"), announced Thursday at CES, is kind of like what you'd get if you jammed together a Nintendo DSiXL, a netbook, and an Alienware m11x.
The Razer Switchblade is a little smaller–and a lot more powerful–than a netbook, with a 7-inch capacitative multitouch screen and a dynamic, programmable keyboard. Razer was loathe to discuss too many details, as the Switchblade is still a concept prototype, but we did find out that the gaming machine is powered by an unreleased Intel Atom processor and runs the Windows 7 operating system with a custom Razer UI.
There's no information on what GPU the Switchblade features, but it is capable of playing games and video at 30 frames per second. Other tentative specs include a 128GB SSD, Wi-Fi, 3G, a mini HDMI-output, and a USB 3.0 port, though these may change when the product goes to market. The Switchblade in its current form will give gamers about 4-6 hours of intensive gameplay.
The Switchblade's dynamic keyboard is what really sets the product apart. The keyboard is really just an LCD screen overlaid with clear plastic tactile keys, and is designed specifically with gamers in mind. After all, processing power (or lack thereof) is not the only reason netbooks suck for gaming–screen size is another serious issue. The Switchblade seeks to remedy this by moving most of the game's UI to the keyboard–thus giving gamers valuable screen real estate.
For example, if you play World of Warcraft on the Switchblade, your skill bar will be pressable keys on the keyboard instead of taking up screen space. Razer is currently working with game developers to make UI's compatible with the Switchblade, but the keyboard is also fully programmable in case you want to play a game that doesn't support the device. Worst-case scenario, Razer said, you could program the keyboard and then just hide the various UI windows on the screen.
The Switchblade isn't just for gaming–though it's obviously a gamer's gadget–and runs a full version of Windows 7. The concept currently features a custom Razer UI, though the final version may or may not have a custom UI. Razer seems pretty set on this being a Windows 7 machine, and shrugged off our questions about the possibility of Android. Along with internet browsing and multimedia capabilities, the Switchblade also has a built-in webcam.
Razer says it's to early to talk pricing, though they did hint that it may be priced within netbook range. Razer also stresses that this is purely a (working) concept–the final device may not even look like this (though, honestly, it looks pretty polished to us).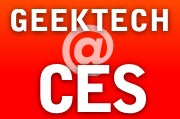 The real question is whether or not PC gaming can be converted to the handheld console market. After all, the Switchblade's keyboard isn't large enough for traditional PC gaming controls. The concept's awesome, but the product will only succeed if we can get PC gamers to step outside of their comfort zones.
Like this? You might also enjoy…
Follow GeekTech on Twitter or Facebook , or subscribe to our RSS feed .