Don't let Xi3's Modular Computer's diminutive stature fool you. Unlike most of the Compact PCs that make their way through our labs, this tyke is equipped with a (most of) proper AMD motherboard, divided into three sections, to fit into the cube-chassis.
It's an interesting concept, but one that might have a bit of difficulty seeing much traction on the market. The base model is equipped with an AMD Athlon X2 3400e, 2GB of DDR2 RAM, an 8GB Flash drive, and Suse Linux — and it'll set you back $850.
The unit does offers a few nifty features. The older AMD hardware is capable of driving dual 1080p displays, and the machine runs on less than 20W of power. An optional thin client — dubbed the "Z3RO Module" — can connect to the Modular computer by USB, and creates an independent workstation for another user to work on. And the modules are scalable: if you'd like to increase the potential processing power to get a larger task done, you can purchase more modules and link them.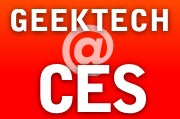 The Modular computer is available now, over at Xi3's website.
Check out PCWorld's complete coverage of CES 2011 Do it. Now .
You might also enjoy…
Follow GeekTech on
Twitter
or
Facebook
, or subscribe to our
RSS feed
.