Erebus: the personification of darkness and shadow, and son of the Greek god Chaos. Not entirely sure why iBuyPower picked such a sinister moniker for their custom-made, liquid cooled behemoth (I would've gone with "Nemo"), but it's a fitting title for impressive hardware.
iBuyPower's labor of love has been in the works for a few years, and it's designed to be the ultimate liquid cooled computing experience. I first caught wind of the Erebus a year ago, at iBuyPower's suite at CES. It was codenamed "Project Daytona" then, and while it was little more than a hunk of metal, perched on a table with some components strapped in, I saw the makings of something interesting.
In Video: iBuyPower's Erebus
The Erebus was designed and built by iBuyPower, so you won't find that chassis anywhere else. Ten 120mm fans are arranged about the case, while the network of arterial tubing keeps the CPU and GPUs from baking the rest of the hardware.
This particular machine is overclocked to 4.4GHz, and at full load it hits 140 degrees Fahrenheit (60 degrees Celsius); there's still a bit of thermal headroom to maneuver in. And the best part: it's (relatively) silent, the monstrous heat kept in check by the quiet fans, and pulsing liquid.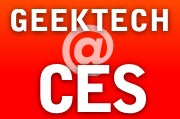 We'll have to wait until February to get this juggernaut into PCWorld's labs, so feel free to ogle the footage until we can put it through its paces.
Check out PCWorld's complete coverage of CES 2011.
You might also enjoy…
Follow GeekTech on
Twitter
or
Facebook
, or subscribe to our
RSS feed
.