At a private dinner here in Las Vegas last night, Sprint CEO Dan Hesse pointed out that in recent memory CES wasn't about wireless technology at all. RIM CEO Mike Lazaridis added that he recalls the days when the wireless part of CES was contained in one little tent at the back of the exhibit hall, and everybody in there knew each other.
How things have changed.
Now, one of the biggest stories here at CES 2011–if not the biggest story–concerns the race among wireless carriers and their device-maker partners to roll out as many devices as possible that connect to the carriers' new, fast, 4G wireless broadband networks.
By the looks of the product lineups, 2011 seems poised to be the year that the tech-buying public becomes aware of what 4G is, and why it's important to the performance of their device that it be connected to such a network.
Some people I spoke with here claim that the general population doesn't yet know (or care) what "4G" means. But I think that's changing–and fast. In the same way that a Verizon advertising blitz helped make Android a household name, wireless carriers and gadget makers alike have helped to make "4G" a familiar term. The public at large may not know what it means in a technical way, but they do know that it connotes "new," "fast," and "desirable." The term has meaning and cachet now, and that will only increase.
The major wireless carriers here all made big splashes around 4G devices, seemingly trying to outdo one another with the number of 4G devices that will become part of their product portfolios this year.
Sprint
Counting the products it announced here at CES, Sprint now has 17 4G (WiMax) devices in its portfolio. Sprint was the first carrier in the United States to begin selling true 4G devices, starting with some USB modems and then adding the HTC EVO 4G and Samsung Epic 4G. Here at CES Sprint announced a new 4G phone–the HTC EVO Shift–as well as a new 4G WiMax Wi-Fi mobile hotspot made by Novatel Wireless.
Tablets are an important part of the carriers' 4G lineups, too, and Sprint said here yesterday that it will begin selling RIM's much-hyped PlayBook tablet–with a WiMax radio inside–beginning this summer. In addition, though Sprint currently sells a 3G-connected Samsung Galaxy Tab, a WiMax-capable version will likely show up soon.
Verizon
Verizon, which turned on its 4G LTE network in early December, announced ten new 4G LTE-capable devices to go along with the two LTE USB modems it already sells. Chief among the new devices are the Droid Bionic from Motorola, the LG Revolution, and the Thunderbolt from HTC.
On the tablet side, Verizon announced that it will sell the new Xoom tablet from Motorola, as well as a 4G-capable Galaxy Tab from Samsung. Also new to the Verizon 4G lineup are two new mobile-hotspot devices, the Samsung LTE Mobile Hotspot and a 4G LTE version of the MiFi mobile hotspot.
Next page: What does 4G mean to T-Mobile and AT&T?
Confusion About 4G?
AT&T and T-Mobile currently do not have 4G networks. Both carriers are trying to get the last bit of value out of their existing 3G networks by using HSPA+ technology. And each company asserts that because its 3G network can deliver speeds close to those of true 4G networks (namely, Sprint's WiMax and Verizon's LTE) in some areas in some markets, it should be able to call its devices "4G."
The truth is, both providers understand the brand value of the "4G" term, and how important it is for consumers to believe that they are investing in fast new networks. That's why AT&T and T-Mobile have both begun putting "4G' in the names of their products.
So be it. Even if there is confusion in the marketplace about 4G–which I believe AT&T and T-Mobile are causing–the truth will come out in the real-life data speeds that consumers see in their neighborhoods and on the routes they regularly travel. As the new, true 4G networks expand and mature, it will become clear that they can pump out faster broadband speeds with better reliability and lower latency in more places than 3G networks can. That will make a huge difference in the way connected devices perform, and consumers will notice.
T-Mobile
At any rate, T-Mobile announced here that it will double the speed of its HSPA+ 3G network during 2011. T-Mobile claims that its network can now deliver a theoretical top speed of 21 megabits per second for downloads, and says that it will upgrade its network to produce download speeds of 42 mbps (theoretical) in most markets this year.
Accordingly, the carrier says that it will release a set of new smartphones capable of the 21-mbps (theoretical) speeds in the first half of 2011, and that it will release phones in the second half of the year that support the 42-mbps (theoretical) top speeds.
In all, T-Mobile plans to roll out 25 new "4G" devices by the end of 2011. It announced a few of them here at CES, the most notable of which are the Dell Streak tablet and the Cliq 2 smartphone from Motorola. T-Mobile demonstrated a ZTE USB modem that it says can hit the new 42-mbps top speed; that device will become available around midyear.
As for tablets, T-Mobile already sells the Samsung Galaxy Tab, but it announced here the T-Mobile G-Slate with Google, made by LG. Codesigned by LG and Google, the new device will run on T-Mobile's 3G HSPA+ network, and will use a version of Android 3.0 designed specifically for tablet computers.
AT&T
Attempting to get in on the 4G fun early (meaning, before its LTE network is ready), AT&T is obscuring the line between 3G and 4G by saying that HSPA+ and LTE are both 4G. From a statement: "AT&T is the only U.S. company committed to delivering 4G using both HSPA+ and LTE technologies."
Fittingly, AT&T announced several new HSPA+ phones that include the term "4G" in their names. The carrier says that it will have "five to seven" such devices in its portfolio by midyear, including the Motorola Atrix 4G and HTC Inspire 4G smartphones. Another HSPA+ smartphone, the Samsung Infuse 4G, will come later.
Although the company is calling its HSPA+ devices "4G," AT&T Mobility CEO Ralph De La Vega announced here that AT&T will also accelerate the construction of its legitimately 4G LTE network, saying that the carrier will begin building the network this year and will complete the project in 2013. AT&T LTE service will start surfacing in certain markets in the middle of 2011, he said.
De La Vega also noted that his company will roll out a number of new LTE-capable devices in the last half of 2011 that run on the new network, including smartphones, tablets, modems, and mobile hotspots.
4G Is the Future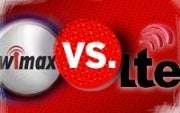 No doubt about it: 4G is the buzzword at this year's CES. It certainly isn't the only hot story at CES 2011, but so many consumer tech devices now connect wirelessly (or need to communicate to wireless devices) that the speed and reliability of next-generation wireless networks has become crucial to the performance (and market appeal) of all sorts of new products.
I'll drink the Kool-Aid here: I believe that devices that can connect to true, all-IP 4G networks–WiMax and LTE, that is–will do things we've never seen before, such as enable new types of apps. Or at the least, they'll perform familiar tasks much faster and more reliably than they do today.
Check out our complete coverage of CES 2011 .