We've seen quite a few of Maingear's wares pass through our labs — they're generally known for their high-end gaming PCs. Maingear also makes home theater PCs, and for 2011, they've decided to pull out all the stops.
The HTPC is designed with a full-sized theater room in mind: A motorized 1080p display sits on the face, sliding out to reveal a Blu-ray drive, and Firewire and USB ports. You can view whatever's playing on your HDTV right on the HTPC's display, and control playback by way of its capacitive touchscreen.
Inside, the machine is able to fit a full-sized ATX motherboard equipped Intel's second-generation Core processors. There's also enough room for full-sized graphics cards, and up to ten hard drives — likely arranged in RAID, to back up your media collection. A fanless power supply and an exhaust vent on the rear keep things relatively quiet.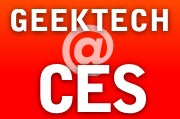 Maingear's latest HTPC doesn't quite have a name yet — their existing HTPCs are called the Axess line, so expect something along those lines. They're likely to start shipping early this year, so stay tuned for more info!
Check out PCWorld's complete coverage of CES 2011.
You may also enjoy…
Follow GeekTech on
Twitter
or
Facebook
, or subscribe to our
RSS feed
.