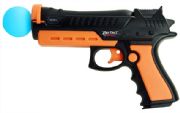 Nyko is bringing the Perfect Shot handgun controller — similar to the one that launched for Wii in 2007 — to the Playstation Move. The Move controller slides into the top of the gun shell, which rumbles with help from two AA batteries that last about 20 hours. The Perfect Shot will cost $14.99 when it launches in March.
But the main attraction in Nyko's new line-up is the Power Shot, an assault rifle that incorporates both the main Move controller and the optional sub-controller nunchuk The Power Shot is an alternative to Sony's own Playstation Move sharp shooter, which will launch this February in tandem with the first-person shooter Killzone 3.
Nyko's version has the same kind of extendable stock in the back, and for lefties also includes the ability to twist the sub-controller grip slightly to the left. But unlike Sony's official peripheral, it doesn't have any buttons on the gun itself except for the trigger, because Sony hasn't unlocked external Move controls to third-party manufacturers. Nyko's assault rifle will, however, be cheaper, with an estimated price of $25 compared to $40 for Sony's sharp shooter.
Gun-shaped peripherals are nothing new for video games, but Sony's official product makes me think the company will throw a lot of weight behind gun gaming for Playstation Move. That, in turn, makes buying a third-party alternative easier to justify.
Nyko also announced the Perfect Shot Pro for Wii, with built-in rumble and a hypoallergenic "soft feel" surface. It'll go on sale this February for $15.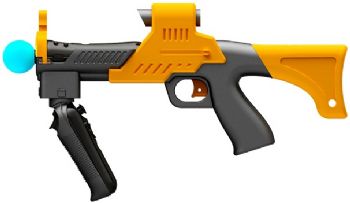 Check out PCWorld's complete coverage of CES 2011.