Once again someone "familiar with the matter" is confirming what everybody suspects: Verizon will announce it's getting a version of the iPhone at a Tuesday event in New York.
Verizon sent out invites on Friday for the event, which is suspiciously being held two days after CES concludes. Since the invites were sent, out many speculated that this would be the long-awaited event to confirm the rumor that refused to die.
On Saturday, The Wall Street Journal is reporting that Verizon will indeed announce the iPhone is coming to its network.
Other things point to Tuesday's event being Apple-related. Most notably: several Mac reporters were directly sent invitations.
MG Siegler of TechCrunch says he doesn't typically get invites from Verizon, but received a non-transferable invite to this event.
Gizmodo didn't receive an invitation according to writer Matt Buchanan, although the site has received one for every Verizon event for the past three years. Buchanan guesses they weren't invited because of a little run-in the site had with Apple earlier this year.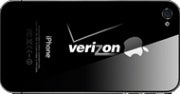 WSJ's sources say Verizon won't be announcing a new iPhone model, just a version of the iPhone 4 that will play nice with Verizon's CDMA technology.
That might explain why Apple isn't making the announcement itself.
WSJ's sources aren't sure when the phone will be available, but other sites are hinting it may be late January — which is a timetable that surfaced more than six months ago.
Boy Genius Report reports that Apple is blocking employee vacation requests from February 3 to 6. My PC World colleague, John P. Mello Jr., points out that Apple imposed a similar restriction earlier this year that covered the release of the iPhone 4.
It looks like Tuesday's announcement may be a pretty sure thing. What isn't certain is how the release of Apple's killer smartphone will affect sales of other devices on Verizon's network.
The Nielsen Company recently released data that shows the iPhone, RIM, and Android are neck and neck in the U.S. smartphone market. A graph shows RIM's market share declining from 33.9 percent to 26.1 percent from June to November 2010. During the same time Apple went from 27.9 percent to 28.6 percent. Android skyrocketed from 15 percent to 25.8 percent.
It's safe to say that Verizon's most popular smartphones are primarily (if not all) Android devices. Will customers still opt for the Google-based phones in the future, or hop on the Apple bandwagon?
Back in November, research firm ChangeWave released a report saying one in three non-iPhone buyers surveyed said they would have bought Apple's device if it was available on their network.
Sounds like the battle for smartphone supremacy is about to get a little more interesting.