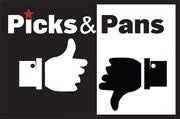 The annual Consumer Electronics Show is the closest thing to organized chaos we ever witness; but despite the pushy crowds and the sprawling noisy show floor this year, we found a few products to love (and a few to mock).
We loved the superfast Android phones this year but were less impressed by the onslaught of mediocre tablets PCs. We were not impressed when Lady Gaga showed up an hour late for a Polaroid press event, but we loved the working beer keg PC.
After days of wandering Las Vegas Convention Center's crowded show floor, we offer here our choices for the best, worst, and weirdest products this year's CES had to offer.
(For a slideshow summary of these picks and pans, see Picks: The Best of CES 2011 and Pans: Biggest CES 2011 Fails .)
Tablets

Android 3.0, where were you? Despite vendors' grand promises of Android tablets at CES, only a few showed Android 3.0, the upcoming, tablet-optimized version of Google's OS. As a result, most tablet makers had to cobble together demos with lesser versions of Android, effectively rendering any in-depth examination of the products pointless. –Jared Newman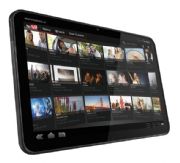 Xoom, Xoom: Android tablets are coming fast and furious in 2011, but the leader is likely to be Motorola's Honeycomb-powered 10.1-inch slate, the Xoom. With Verizon LTE 4G wireless, 32GB of on-board storage, an SD Card slot, and a standard micro USB port, this tablet looks like the open-standard alternative to the iPad that I've been waiting all year for. –Robert Strohmeyer

Tablet fatigue: I'm seeing an awful lot of plastic slabs out there trying to pass themselves off as viable iPad rivals. Both unknown and known companies are guilty of this rush to production. But many of the devices I'm seeing have no business being brought to market, even as low-cost tablet options. –Melissa J. Perenson

Dud on arrival–Dell's Inspiron Duo: I'm sympathetic to the notion of a convertible slate that offers the convenience of a tucked-away keyboard when the user needs one; but the 3.4-pound (starting weight) Inspiron Duo could pass for a pre-iPad Windows tablet PC. Yuck! –Robert Strohmeyer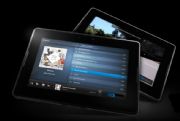 RIM tablet in play: I finally got an up-close look at RIM's much ballyhooed PlayBook tablet–and the logic and look and feel of the QNX operating system's user interface impressed me. The PlayBook I saw up close was Sprint's 4G version, with a WiMax radio inside; and the PlayBook's streaming video playback looked beautiful. Sprint plans to begin selling a WiMax-connected PlayBook this summer. –Mark Sullivan

My arms are killing me: MSI's Butterfly concept tablet wants to beat the dreaded "gorilla arms" fatigue effect that comes from using a touch-enabled all-in-one. The Butterfly's screen slides down toward you, so you can tap away on the ten-finger multitouch display, iPad-style. There's also a keyboard tucked into a secret compartment at the rear of the stand. It's still just a concept, but bear in mind that MSI's last concept all-in-one became the MSI AE2420 3D. –Nate Ralph
Phones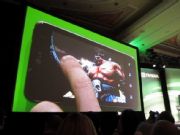 Game on, Android! Dual-core-processor Android phones, like the LG Optimus 2X, have amazing gaming potential. I loved playing Angry Birds and Fruit Ninja on the Optimus 2X's gorgeous display. I just hope more gaming developers jump on board! –Ginny Mies

Phone fail–LG Optimus Black: On paper I liked the look of the Optimus Black; but when I got my hands on the device, I liked it less. The phone boasts a superthin (9.2mm) front-to-back thickness, but in my hand the device felt insubstantial and breakable. The phone also boasts a new NOVA screen produces brighter whites and darker blacks, but overall the video and images looked a little blurry and grainy to me. –Mark Sullivan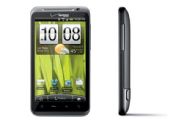 Struck by Thunder(bolt): So the HTC Thunderbolt isn't a dual-core phone, but we've been waiting anxiously for this Verizon LTE mobile–which is basically the Verizon version of the Sprint Evo 4G–since we first saw the leaked photos of it. Want. –Ginny Mies

T-Mobile's "4G" network–not so fast: T-Mobile made a big splash around its 3G HSPA+ wireless network at CES, claiming that it can pump out download speeds of up to 21 mbps, and promising that the service will double in speed over the next year. In our tests in San Francisco, we found speeds of 6 mbps in some areas of town, but very 3G-like speeds of 1 mbps or less in other areas. In other words, the T-Mobile's supposedly 4G-speed data service seems spotty and probably not as fast as the company is making it out to be. –Mark Sullivan

Great Sony Ericsson comeback: After the hopelessly outdated Xperia X10 appeared, who knew that Sony Ericsson would bring an awesome smartphone to CES? The Xperia Arc is ultrathin with a brilliant screen and HDMI output that works throughout the OS. And it runs the latest version of Android. Wireless carriers, subsidize this one pronto. –Jared Newman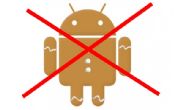 Where were the Android 2.3 phones? I know, I know, the Android 2.3 OS just came out. But with all of these phones with front-facing cameras, wouldn't it be nice to if they used Gingerbread (code name for Android 2.3)–the latest version of Android, with an interface that supports dual cameras? –Ginny Mies

Too little for too much–Cinemin Slice: This pico projector and dock combo for iPhone, iPad, or iPod Touch projected a reasonably clear short-range image, but it felt light and plasticky, didn't sound very good, and carries a strangely high price of $430. –Mark Sullivan

We reached out and touched smartphones: A few CES shows ago, we couldn't touch the hottest phone that year (cough, Palm Pre, cough). This year, we could play with just about every phone that came out. I think I played Angry Birds on at least five phones this year. –Ginny Mies
Gadgets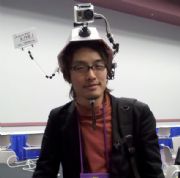 Don't cross the streams: Taking up-to-the-minute coverage to another level was Takuma Iwasa's custom-built headgear, which let him live-stream his entire CES experience to the world. –Edward N. Albro

Parent's nightmare: 'I Am T-Pain' microphone: Q: What parent doesn't want to hear their kids singing T-Pain's "I'm in Love With a Stripper" in the family room? A: This one. The fact that this $40 toy microphone auto-tunes the singer's voice so they sound just like T-Pain merely adds an extra layer of annoyance. –Robert Strohmeyer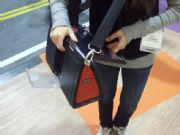 Shoulder bag boom box: They look shoulder bags, but the trapezoidal objects on the straps are actually solar-powered boom boxes with iPod docks–and surprisingly robust-sounding ones at that. The new Eton Soulra XL model (due out "soon") runs for 4 hours on a wall charge, but on a sunny day with the flip-up solar panel activated, they can go for twice that long. Who says green tech can't rock? –Yardena Arar

Human touch massage chair: If there ever was a setting to justify the $4799 price tag of the Human Touch massage chair, CES 2011 was it. A companion iPad and iPhone app transmits preprogrammed routines from wellness counselors, sending weary journalists here into a state of bliss. –Jared Newman

Spy stuff: Many inexpensive network cameras let you remotely monitor your home, office, kid, pets, and whatever else you choose, via a Web browser. But for people who are especially serious about security, TP-Link's Wireless Pan/Til Surveillance Camera provides remote-control features that you usually see only in movies. It lets you pan, zoom, and tilt the lens, and even program preset viewing angles and tours of the premises. At $299, it's pricey, but you gotta love the tech. –Yardena Arar
Flavor of CES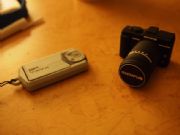 Thumbs up: One of the best things this year was the near-complete lack of CD-based digital press kits. Instead, most companies used USB thumbdrives–and some used imagination as well. Olympus's USB drive looked like a miniature DSLR, while Casio's was a tiny re-creation of its just-announced Tryx camera. –Tim Moynihan

Celebrity Electronics Show: This year's CES could be the most star-studded on record. From Lady Gaga's Polaroid glasses to 50 Cent's new line of headphones to a slight case of Bieber fever, CES at times looked more like the Golden Globes. –David Daw

CES Robo-fail: The TechZone dedicated to robots and related innovations at CES ought to have offered companies a golden opportunity to showcase some of the coolest innovations in robotics. But the best I could find there were a few window-washing robots and a cheesy Pleo dino-bot. –Alex Wawro

CES waiting game: The only thing more common at this year's show than Android tablets were long lines. Lines to get to the show, lines to leave, lines to eat or to use the restroom, even lines to get a good Internet connection to blog about the lines. –David Daw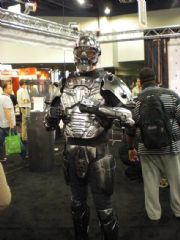 CES cyborg: In the distant year 2011, mankind will wear metallic armored suits in order to…sell custom skins for gaming consoles? –David Daw

Guy with three laptops in the press room: I don't know who you are, mysterious guy with three laptops in the press room, but you're taking up the whole table. And it's the table closest to the coffee. How (and why) do you even carry all those? Are you some kind of super-journalist who can write three stories at once? –Patrick Miller

Samsung sweatfest press conference: People screaming. Elbows in the face. A stampede of journalists trying to rush the door. All to get into a sweltering room filled with products we already knew about. Never again! –Ginny Mies

CES in Vegas–a power and bandwidth desert? We're at the Consumer Electronics Show. That's supposed to mean tech, right? So why are hordes of journalists camped in hallways, trying to find the few available outlets? Or performing all manner of pagan rituals to get a stable Internet connection? –Nate Ralph

Nerds in need of condoms? Apparently Trojan didn't get the memo that CES is not a swinger's festival of free love. Nor is it the Adult Entertainment Expo, which happens to take place down the road at around the same time. And yet the condom maker drew the crowds at Digital Experience, a preshow press event, as if folks had never seen a contraceptive before. How sad. –Jared Newman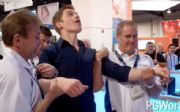 Go ahead and tase me, bro, but only this once: Consumer electronics and weaponry collided at the CES Taser section. As PCWorld's own Alex Wawro can attest, those little devices are very effective. –Edward N. Albro
Home Theater/Gaming

Victory over your video: Plex is an elegant media management program that not only oversees the stored movies on your Mac desktop or laptop, but also pulls in, transcodes, and organizes the videos you select from sites around the Web. Impressively, Plex transcodes practically any movie format you might find on the Web into the MP4 file type that Apple devices can play. There's also a $5 iPhone app that acts as a remote control. Plex will come preloaded on a few new connected TVs from LG starting in February, the company says. –Mark Sullivan

Yahoo connected TV goes interactive and annoying: Yahoo is enabling interactivity for its TV widgets, which are fairly ubiquitous on Internet-connected sets these days. But I'm not sure that's a good thing. Since I don't like it when networks run promos and other informational items at the bottom of the screen while I'm watching a show, I don't think I'll like having a Yahoo widget reminding me I have access to an IMDb page or prompting me to take a little quiz either. Some people will love the new features, I'm sure–I just hope I'll get complete control for turning the darn things off. –Yardena Arar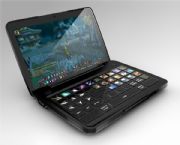 A dull Razer Switchblade: Razer's concept of a programmable LED keyboard that adapts to match your favorite games is awesome, but coupling it with an 8-inch screen renders the whole product pointless. The designer we spoke to promised that the Razer Switchblade would have roughly the same price as a high-end netbook, so there's no reason to invest in a Switchblade when you can get a netbook with a bigger screen and more functionality for the same price. –Alex Wawro

Active for passive 3D TV viewing: Fans of active-shutter glasses for watching 3D TV complain that polarized 3D glasses make each eye see a less-than-HD image. Everyone else responds that active-shutter glasses give them headaches. Regardless of which one produces the superior image, I'm going with the one that I can watch comfortably for longer than 5 minutes. Plus, passive 3D glasses look better. –Patrick Miller

'Connected' TVs without built-in Wi-Fi: It's 2011. I purchased my first Wi-Fi-capable computer in 1999. If you're going to sell TVs without Wi-Fi connectivity, don't be surprised when people don't bother to use your Smart TV features because they don't want to shell out $100 for a USB Wi-Fi adapter that should cost $15. I was surprised to run across several HDTV 'connected' TVs here at CES that didn't include built-in Wi-Fi. –Patrick Miller

Back to the '80s: I'm a huge Street Fighter 2 nerd, so when I saw case modder Dean "Envador" Liou's ArcadeDock I instantly fell in love. Just snap your Lenovo laptop in, and you get a fully functional arcade cabinet, complete with a high-quality arcade stick and gaming-friendly button layout. Quarters optional. –Patrick Miller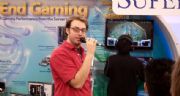 Nuclear launch detected! Starcraft II fans walking through the North Hall got an unexpected treat: Super Micro brought along everyone's favorite game announcer, Sean "Day[9]" Plott, and had him announce daily Starcraft II tournaments from the booth. No word on when Super Micro's line of Day[9]s will be hitting the market, but I plan to buy two. –Patrick Miller
Miscellaneous Hardware

Xi3 modular computer for moneybag nerds: The concept of Xi3's modular PC is intriguing: retrofit existing hardware to fit into a small, modular box that can scale when paired with a twin. Need more processing muscle? Buy another Xi3 cube, and attach them. So what's the problem? For $850 you get aging AMD processors. A year ago that may have sounded good. But you'll be hard pressed to convince someone to plunk down that much money on a cube now that Intel's impressive Sandy Bridge CPUs and AMD's Fusion APUs are finally appearing in standard PCs. –Nate Ralph

Bombs away: IoSafe talks a tough game about its new line of Rugged Portable HDD and SSD storage devices, but I got a first-hand demo of a titanium drive that still functioned after being shot, smashed, and submerged in water for nearly a minute. Even after five shotgun blasts, our aluminum HDD demo unit continued to deliver data at USB 3.0 speeds. The Rugged Portable line isn't completely fireproof (yet), but the drives are guaranteed to last longer in a fire than you will. –Alex Wawro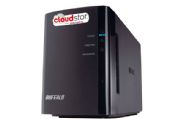 Bigger is better: Dropbox is great, but I'm not fond of paying $20 a month for a mere 100GB of cloud storage. The Pogoplug-powered Buffalo CloudStor boasts a healthy 2TB of storage and the ability to stream video directly to mobile devices over the Web, with no monthly fees. The 2TB model's $270 asking price is only slightly more than two years of Dropbox subscription fees, and it provides a heck of a lot more storage. –Robert Strohmeyer

We want one: [Inside the editor's mind:] "This PC couples slick engineering with an impress- no, wait. This interesting chassis is equip- okay, that's not right. The truth? Nvidia's Keg Computer Casemod is a beefy gaming PC. And it dispenses beer. Do I really need to elaborate?" –Nate Ralph

Better sync option for Windows users: Iomega SuperHero, a backup and charging dock for iPhone helps fill a void for Windows users. I don't like syncing by address book with Outlook or Google–and yet if I don't, I've had no way to back up my contacts–until now. The SuperHero dock backs up pictures (no video, regrettably) and contacts to an SD Card, and lets you move 'em between devices, too. –Melissa J. Perenson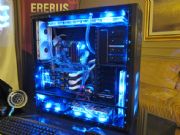 So cool: iBuyPower's liquid-cooled Erebus chassis is designed to maximize your overclocking potential with a whopping ten 120mm fans, and liquid cooling–lots of it. It's large, it's quiet, and iBuyPower designed and built it in-house, a labor of love years in the making. –Nate Ralph
Getting Connected/Streaming/Audio

Powerline networking gains respect: I've been a fan of powerline networking for years–it's so much better with streaming media than any variant of Wi-Fi in my downtown San Francisco neighborhood. So I was glad to see that the big networking vendors are making it more mainstream. Both D-Link and Netgear announced hybrid Wi-Fi/HomePlug AV routers, signaling that HomePlug AV has won the powerline networking standards war that broke out a couple of years ago. –Yardena Arar

Intel's streaming video helper: Intel's WiDi 2 upgrade lets you stream 1080p video wirelessly from a laptop with a newer Intel chip to an HDTV that either has WiDi support built in or has a WiDi adapter (such as Netgear's next-generation Push2TV or D-Link's MainStage) connected to an input. I don't know that I'd buy a new notebook just to get WiDi, but it certainly might make the Intel price premium a bit more palatable. –Yardena Arar

Please, no more proprietary network technology: I hate it when network vendors pile on proprietary technologies to differentiate their products, because it forces you to stick with one vendor in order to reap the benefits. That's what happened with 802.11g (remember the days of Turbo-G, Super-G, and the like?), and now it's happening with HomePlug AV powerline gear. Several vendors announced products that speed HomePlug powerline networks to 500 mbps (the spec only does 200 mbps)–but only if all of the gear on the network uses the technology. –Yardena Arar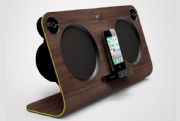 House of Marley audio products: As cool as the House of Marley speakers and headphones look, there's something unsettling about using the late reggae icon's name to peddle electronics. (On the other hand, there is one tech icon-inspired music product I'd like to see: a House of Ballmer drum kit.) –Jared Newman

Intel's WiDi does audio: Logitech announced a WiDi speaker adapter that uses technology from Ozmo Devices to let you play laptop audio over external speakers. You'll need a laptop with a current Intel chip to support WiDi (Intel Wireless Display technology), but the adapter–which you can connect either to speakers or to a receiver via either RCA or 3.5mm jack cables–will cost only $30. That's a lot cheaper than a Sonos system, assuming it works. –Yardena Arar