There's a ton of offbeat tech on display at CES this year, but you wouldn't know it without taking time to poke around the nooks and crannies of Las Vegas Convention Center's sketchy South Hall. GeekTech writers Sarah Purewal and Alex Wawro took one for the team yesterday and hit the show floor in search of cool gadgets you may have overlooked, stumbling first upon the Taser C2 Personal Protector from Taser International.
The C2 is what law enforcement refers to as an "Electronic Control Device" (ECD), but we thought it was just a neat gadget that uses a custom-calibrated pulse tuned to incapacitate someone for thirty seconds without permanent harm. The Taser C2 employs replaceable compressed nitrogen cartridges to fire two probes on 15-foot conductive wire, delivering 50,000 volts of electricity for 30 seconds every time you pull the trigger.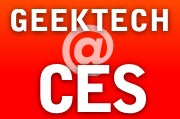 Taser International promises the C2 can instantly immobilize a grown man, but we couldn't resist getting our hands on the gadget to test it on a live dummy.
Find Alex (@awawro) and Sarah (@ geeklil) on Twitter. And f ollow GeekTech on Twitter or Facebook , or subscribe to our RSS feed .