With the past week being dominated by CES announcements, it can be pretty hard to keep up with what was happening outside of Vegas. Worry not! GeekTech brings you the condensed guide of what else has been going on in the world of geek.
HydroCar appears on eBay
Not only has someone created an awesome car that works on land and sea, they decided to put it up on eBay too. Rick Dobbertin has been building the Dobbertin HydroCar over the last nine years, even having his work featured in tech magazines.
The aluminium car-boat hybrid has been tested four times since it went up for sale, and has so far managed to make just under 60mph in water. Check out the video of its latest test drive about to hear its Chevrolet engine purr, or if you have $777,000 handy, buy it.
Logitech Revue Rooted
The Logitech Revue was designed to make it easier to stuff on the Web or from a TV broadcast on your HDT, but it's now been rooted via its UART1 port to allow custom apps on it. If you're a pro with a soldering iron and an Arduino board, then the box might not be too much of a problem to root, otherwise it might be wise to pass on this hack. Full instructions are available from GTV Hacker.
Nook Color gets Ubuntu
The Nook Color also saw a new hack last week, as hackers turned their attention away from Android and to Linux. With a bit of coding, XDA Developers forum member Devesatorx managed to get the Ubuntu running on the Nook, but it still looking to improve it. Everything you need to try this hack for yourself is on the forum.
Japanese Create Useful Elevator Button
When your hands are full, reaching up to press the buttons on elevators can be annoying. Not if you live in Fukui City, Western Japan though, where some elevators can be called by, er, kicking them. Now that's service! Check out the video…
PSP Go Hacked
Even little handhelds aren't safe from hackers. Developer Liquidzigong managed to pry open the PSP Go and get it to play ISO files. Zololo has put up a small instructional for those wanting to try it out.
Cr-48 can run Android
It only made sense that Google's prototype laptop should run it's successful mobile OS Android. Though some of the details are pretty lacking right now, it appears to happily run Froyo and might have been achieved the same way that allowed Windows and OS X to appear on the netbook. Let's hope Liam McLoughin shows us a video demo of the OS in full swing soon. Read the story…
Yarn Monster Loves Yarn
Making those tidy little yarn balls can be a painstakingly slow and boring process, unless you happen to be this DIY yarn monster. The arduino-powered knitting aid will eat up all of your yarn and make the balls for you. It is controlled with a Xbee module and a remote to adjust winding speed and direction. Creator Union Labs has put up all the codes you will need to make your own monster — though the cute face on the front can be altered to suit your imagination. Read the story…
Make Coffee Anywhere with Tweet-A-Pot
When you wake up in the morning feeling a little rough, even a small task like making a pot of coffee can be a hurdle. However, with the help of Twitter and a good old Arduino board, Tweet-A-Pot can make the coffee before you reach the kitchen. Other than the Arduino, Tweet-A-Pot needs a bit of good IDE and Python coding to make the magic happen, followed by a custom Twitter hashtag to get the coffee pouring. Though when you're in a rush, it will soon be worth it — just make sure you remember to tell it to stop pouring too! Its Instructables page gives you all the coding and guiding you'll need to make the device.
Gingerbread makes iPhone Debut
Seeing as the iPhone 3G had been hacked to run Android in the past, it only seems logical to get the new Gingerbread on there too. Nick Pack devised the hack by using iDroid and thankfully it duel boots, so you will still have iOS if things go wrong; at present it looks a little patchy. Check out the video showing off Gingerbread running.
iPhone Case That Multitasks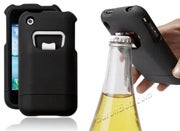 Sadly there is no app that can open your beer bottle for you, but now there's an iPhone case for that. The Baronbob iBottle case means you'll never have to go thirsty again, but it's possibly not the most practical case to carry around in your pocket all the time and it looks plain dorky. At $20, you could just whip it out at parties though and potentially save the night.
Like this? You might also enjoy…
Follow @ElizabethFish on Twitter.