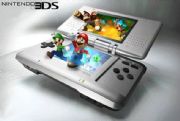 Nintendo's 3DS has another trick up its sleeve for its glasses-free 3D handheld: a deck of augmented reality playing cards included with each game console.
The 3DS's rear-facing camera can read cards when placed on a table, generating games or other events on the screen with the real world as the backdrop. In a private demo at the 2011 Consumer Electronics Show, I played a target-shooting mini-game and faced off against a fire-breathing dragon, which required me to dodge by shifting the console — and by extension, my entire body.
Nintendo said six of these cards will be included at launch, but wouldn't say whether it will sell more cards in the future.
The company otherwise didn't have anything new to announce about the 3DS, which is expected to launch this March in the United States in March. (Around the world in Tokyo, Nintendo was holding a Japan launch event with more details, including the potentially devastating revelation that 3D gaming drains console's battery in three to five hours with dim backlighting.)
3D aside, I was most interested in how Nintendo intends to compete with the smartphone gaming boom. The answer from Charlie Scibetta, Nintendo's senior director of corporate communicatinos, was no surprise: Support from major publishers and Nintendo's beloved franchises, he said, will be the lure that phones can't match.
"You're not going to see Mario on iPhone," he said. "Our company position right now is we're going to keep our own franchises for our own platforms."
He also suggested that smartphones and dedicated game consoles can co-exist. "We don't have to fail for an Apple to succeed, and Apple doesn't have to fail for us to succeed," Scibetta said. "There's plenty of room for all of us out there in the gaming world."
Along that line, Nintendo isn't making a big push to diversify beyond games and become a multipurpose device like a smartphone or iPod Touch. Although the console is capable of playing 3D movies, taking photos and listening to music, Scibetta said Nintendo prides itself on being a gaming company.
Nintendo is hosting a 3DS press event in New York City later this month, at which the company is likely to bare all details on the handheld's U.S. launch.