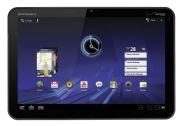 Motorola reportedly has big hopes for its Xoom tablet and may produce between 700,000 and 1 million Xoom devices before April.
It's anyone's guess as to how many tablets Motorola will sell in the first few months, but it's not unrealistic to expect the company to sell one million Xooms relatively quickly. Apple sold its first one million iPads in 28 days, and Samsung hit the one million mark with the Galaxy Tab in just two months. The Xoom will be available in four different colors as opposed to Apple's black-only iPad, according to Taiwan-based DigiTimes.
Motorola's tablet is scheduled to launch on Verizon's network some time between January and the end of March. Pricing for the Xoom has not been announced.
Meet the Xoom
Samsung's Galaxy Tab was widely considered the first viable answer to the iPad, but the Motorola Xoom will be one of the first Android-based tablets to match the 9.7-inch iPad's specs. The Xoom features a 10.1-inch touchscreen, 1280-by-800 resolution, 1GB RAM, 1GHz processor, 32GB on-board storage, SD card slot, 3G and 802.11n Wi-Fi connectivity, 5 megapixel rear-facing camera with 720p video capture, and 2 megapixel front-facing camera for video chat.
The Xoom will also be one of the first tablet devices to run Android 3.0 (Honeycomb). The new Android OS is the first iteration of Google's mobile platform designed for both smartphones and tablets. Tablet-friendly features in Honeycomb include split-screen displays and the latest version of Google Maps featuring 3D building renderings and faster display times.
At launch, the Xoom will be available only as a 3G + Wi-Fi device, but a Wi-Fi-only version of the Xoom may also be coming soon, according to Android Community. Motorola has also said the Xoom can be upgraded for Verizon's 4G LTE network. It's not clear how the upgrade would work, but some reports say you will be able to buy an external 4G connector for the Xoom.
Tablets were a hot topic this year at the Consumer Electronics Show, with most major manufacturers showing off a one-panel slate. Exhibitors included Acer, Archos, Asus, Dell, Fujitsu, LG, Research In Motion, Samsung, and Toshiba.
Check out our complete coverage of CES 2011.
In Video: The Motorola Xoom
Connect with Ian Paul (@ianpaul) and Today@PCWorld on Twitter for the latest tech news and analysis.