Dirk Meyer, CEO and president of AMD, has resigned effectively immediately. AMD's Board of Directors has announced that Senior Vice President and CFO Thomas Seifert will replace him as interim CEO.
According to a press release issued by AMD, a CEO search committee has been formed to begin the search for a new CEO. The committee is led by Bruce Claflin, Chairman of AMD's Board of Directors, who has been named Executive Chairman of the Board as he assumes additional oversight responsibilities during the transition period. Seifert will maintain his current responsibilities as CFO and has asked not to be considered for the permanent CEO position.
The announcement comes as a complete surprise: there were no rumblings of major changes in upper management on the rumor mill, and no knowledge of personal or medical issues that would cause Meyer to suddenly resign. Neither AMD nor Meyer have given a reason for the sudden departure. The resignation comes on the heels of the successful launch of AMD's first Fusion processors for netbooks and ultraportable laptops. AMD's stock has started to fall in after-hours trading, following the announcement.
History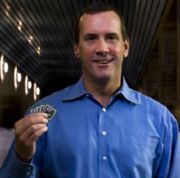 Meyer was installed as CEO in 2008 as a replacement to Hector Ruiz, just as the company was making its way out of rough financial times. Formerly the chief operating officer, Meyer helped spin off AMD's manufacturing unit and stabilize its foundering product development efforts. After delays, the company last week released chips based on the Fusion architecture, which combine a CPU and graphics processor in a single chip.
Despite the moves, the company continued to struggle financially. In October, AMD posted a third-quarter net loss of $118 million.
"The Board believes we have the opportunity to create increased shareholder value over time. This will require the company to have significant growth, establish market leadership and generate superior financial returns. We believe a change in leadership at this time will accelerate the company's ability to accomplish these objectives," AMD said in a statement.
Seifert joined AMD in 2009, and previously served as chief operating officer and CFO of Qimonda AG.
AMD also announced that it expected net revenue for the fiscal fourth quarter of 2010 to be approximately $1.65 billion. That would be slightly higher than the estimate of analysts polled by Thomson Reuters, who on average forecast revenue of $1.65 billion. The company will announce its fourth-quarter results on Jan. 20.