Fiery rhetoric is heating up between Verizon and AT&T with representatives from both companies trash talking the other's network reliability. The source of the squabble between the two is the strong likelihood AT&T will lose its three year iPhone exclusivity to Verizon who is expected to announce at a press conference later this morning a CDMA iPhone.
On Tuesday it's reported Jeffery Nelson, a Verizon spokesperson, brought into questions AT&T's network reliability in an interview with The New York Times. "AT&T is known for a lot of things, but network quality is not one of them," Nelson is quoted in the Times.
(Editor's Note: Come back to PCWord.com at 11 AM (ET) to follow along a live blog of the Verizon press conference. PCWorld will simultaneous broadcast the Technologizer live blog of the event.)
Nelson's remarks come a day after Business Insider quoted AT&T PR boss Larry Solomon saying that AT&T's GSM technology is faster than Verizon's CDMA technology: "The iPhone is built for speed, but that's not what you get with a CDMA phone. I'm not sure iPhone users are ready for life in the slow lane."
Nelson responded to Solomon's comments to the Times saying, "Typically companies try to call attention to their strongest suit. It must be backwards day at AT&T."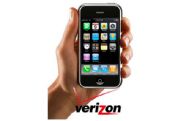 What passes as competitive banter between to wireless foes could get ugly fast in the months ahead if Verizon does get the iPhone. Competition will be fierce as Verizon looks to steal iPhone customers away from AT&T and both battle for millions of new potential customers.
Six Million New Verizon iPhones Expected
With millions iPhone customers still locked into AT&T contracts, analysts are still expecting Verizon to shift up to six million iPhones on its network this year. It is believed the majority of these iPhone customers would be upgraders from older smartphones of feature phones, and only a smaller margin of them would actually be customers stolen from AT&T, disgruntled with network woes due to data saturation.
The Verizon iPhone is expected to be essentially the same phone AT&T has, with the notable exception of a CDMA chip (not 4G LTE) instead of an UMTS-compatible chipset. Verizon is reportedly trying to drum up sales by offering an unlimited data contract with its iPhone, something that AT&T stopped offering last summer. AT&T is fighting back by dropping the price of the iPhone 3GS to $50, while the price of the iPhone 4 remains at $199.
More details about Verizon's announcement will come this afternoon.
Follow Daniel Ionescu and Today@PCWorld on Twitter