Android version 2.4 is slated to be released sometime this summer, Pocket Lint sources report.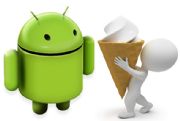 The latest version of Google's mobile operating system, dubbed "Ice Cream" (previous iterations include the tasty monikers of "Froyo," "Éclair," and "Donut"), will hit phones in June or July of 2011, according to unnamed Pocket Lint sources.
Though Ice Cream's launch date is just a rumor, it does fall in line with Google's Android timeline–which is two updates per year. Google's Froyo was announced in May 2010 (and rolled out to phones in the summer), and its latest version of Android, "Gingerbread" was just announced in December. Google also announced a tablet version of Android, "Honeycomb," in January, though Pocket Lint points out that this version is unlikely to make it to mobile phones.
Either way, a June/July announcement of the next Android version falls right in line with the rest of Google's timeline.
Pocket Lint also reported seeing a Sony Ericsson Xperia Arc running an unknown version of Android on the show floor at CES. Sony later confirmed that this was a software corruption issue, not a new version of Android.
Unfortunately, there's not much else to report–Pocket Lint's anonymous sources had no word on what delicious treats Ice Cream might entail.
Follow Sarah on Twitter (@geeklil) or at sarahpurewal.wordpress.com