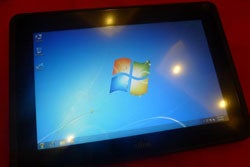 Fujitsu demoed its next-generation tablet at the Consumer Electronics Show. It came as no surprise, as the company has long been a player in highly mobile and slate-style products–especially ones aimed at corporate and vertical markets in previous pushes towards a tablet PC.
"There will be a lot of entries, and they'll either fly or die," Fujitsu's product manager Paul Moore astutely notes.
For Fujitsu's first tablet, due in the United States in the first half of 2011, the company is showing a 10-inch Windows slate design. The slate is running a 1280 by 800 resolution, 400 nit screen that uses N-trig's multi-touch screen technology for doing finger and pen navigation on the same screen. (HP's Slate, announced late fall 2010, already uses this technology, and N-trig has announced support for Android devices as well.) This technology alone makes the unnamed Fujitsu slate a good fit for the company's target vertical markets, which include finance and healthcare.
The unit will have Windows 7 Professional running on an Intel Atom Oaktrail-based system with a self-encrypted solid state drive, an option for wireless broadband, plus standard connectivity like Wi-Fi and Bluetooth, biometric security (a small swipe is on the underside of the unit), and front- and rear-facing cameras and microphones.
Fujitsu expects the slate to come in at about 1.7 pounds, a figure Moore notes is about the same across his competitive set just because of the all the component requirements necessary to create a Windows slate. The price has yet to-be-determined, but "competitive" with other Windows tablets.
As for Android? "We've been leery of the Android OS," admits Moore. "We have an Android slate on the roadmap, and it would have Honeycomb. But the regions for distribution have not been settled yet." Moore says the Android slate will ship in Japan, but he's not sure if it will make it to U.S. shores.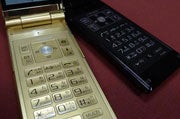 Also unknown is whether the Fujitsu phone displayed at CES will make it Stateside, either. Fujitsu showed a Docomo phone that ships in Japan today. The hook? The phone, in black and gold, is waterproof: Drop it in water, and it will survive. At the least, the company plans to take the technology of the interface and the waterproof feature, and considering integrating it into an Android based tablet later this year.
Check out our complete coverage of CES 2011.