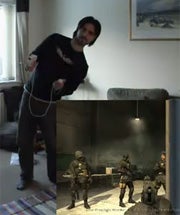 So, you want to play some Call Of Duty on your PC? You could do that the old fashioned way, or you could spice things up a little by hooking your PC up to Microsoft's Kinect and Nintendo's Wii Remote for some added FPS awesomeness, One avid gamer has done just that, sharing the impressive results on YouTube for all to see.
YouTube user Demize2010 wanted to see just how far the Kinect's gesture support could be taken, and after a fair bit of tinkering the end result is a very-real and playable gesture-friendly FPS.
The impressive hack shows off the PC version of Call Of Duty 4: Modern Warfare being played with both a Kinect and a Wii Remote–now that has to be one gaming collaboration you thought you would never see.
With this hack, you would use Nintendo's Wii Nunchuck to move around within the game world. The Wiimote's built-in gyroscope controls aiming.
During gameplay you would use the Kinect to carry out various gesture-based in-game movements, such as leaning, ducking, reloading, and stabbing. For those more 'traditional gamers' out there, Demize2010 promised on his YouTube page that all the demonstrated gestures do work while sitting down too. Check it out:
Cool, huh? Sure, it may make gameplay a little slower paced than usual, but it offers an impressive glimpse at what can be achieved; so impressive in fact that many YouTube commenters have been calling the video a fake.
Demize2010's neat gaming feat was made possible due to the use of the FAAST toolkit, OpenNi/Nite tracking and programmable input emulator GlovePie.
You can find more videos of Demize2010's gesture-based FPS adventures on his YouTube page.
Like this? You might also enjoy…
Follow GeekTech and Chris Brandrick on Twitter, or check us out on Facebook .