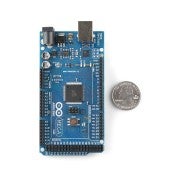 If you're looking for a good movie to watch tonight while curled up in the sofa with your significant other, Arduino: The Documentary may…not be the right film for you. But if you're as crazy over hacks and DIY projects as we here at GeekTech are, you owe it to yourself to take some time and watch it.
Arduino, of course, is a popular hardware toolkit/platform that's often used for prototyping, or more creatively, for various hacks and DIY tech projects (many of which we've featured on this very blog).
The documentary has been released under a Creative Commons Non-Commercial/Share-Alike license, and you can watch a stream of it on the Arduino Documentary site. English- and Spanish-language versions are available, and a torrent and direct-download should be available soon. Check it out!
[Arduino: The Documentary via Engadget and Adafruit]
Like this? You might also enjoy…
Follow GeekTech on Twitter or Facebook, or subscribe to our RSS feed.