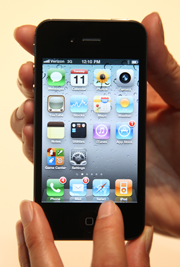 The Verizon iPhone, announced on Tuesday, will not be plagued with the same 'Death Grip' issues as the AT&T iPhone, the first people to get their hands on the device have reported. The Verizon iPhone goes in stores on February 10, but people invited to Verizon's press event have played with the new device and found that antenna positioning has been moved.
The Verizon is almost identical feature-by-feature with the AT&T iPhone 4, aside the new CDMA chips inside the phone meaning that there are a few differences based on the shortcomings of the CDMA technology, like the lack of simultaneous data and voice connections and limited roaming capabilities. But with a new antenna inside, signal bars on the Verizon iPhone will not drop significantly when your finger bridges the antennas, like in the much-publicized Antennagate debate with the AT&T iPhone 4.
After testing the Verizon iPhone in the carrier's press call, Ars Technica 's Chris Foresman reports that bridging the remaining gap on the device's antenna did not attenuate the CDMA signal reception, not even during a call. Reporting for Slashgear , Evan Sellek only noticed a signal drop of one bar (from 4/5 to 3/5) when bridging the antenna gap on the Verizon iPhone. PCMag 's Sascha Segan only noticed a signal bar disappearing when bridging all four antenna notches on the Verizon iPhone, an unlikely scenario in most real-life cases.
The elimination of the 'Death Grip' issue is a result of s slight antenna design change on the Verizon iPhone when Apple incorporated the CDMA chip. The original AT&T iPhone 4 antenna notches have been shuffled on the Verizon model, and an extra notch has been added. The AT&T iPhone has three antenna notches, two on the bottom corners, and one at the top next to the headphone jack. The Verizon iPhone has four antenna notches, one at each corner of the device (the one at the top was removed).
Follow Daniel Ionescu and Today@PCWorld on Twitter