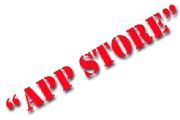 Microsoft is picking a fight with Apple over the phrase "App Store" in the latest example of tech trademark absurdity.
"App store" has become too generic for any one company to own, Microsoft argued to the U.S. Patent and Trademark Office. The company notes that Apple Chief Executive Steve Jobs has even used the phrase generically, saying in one interview that Amazon, Verizon and Vodafone are "creating their own app stores for Android." Apple applied for the trademark in 2008.
Apple's attempt to trademark "App Store" certainly isn't the first time a tech company has tried to control obvious or generic words and phrases. Here are some other examples:

Facebook's Only Face: Broken into two individual words, "Facebook" loses its uniqueness, but that hasn't stopped the social network from attacking companies who use either word in their own names. Among the companies Facebook has sued are Faceporn and TeachBook.
It's On Like Donkey Kong: Nintendo might've had little involvement with the origins of "It's on like Donkey Kong" — it reportedly first appeared in Ice Cube's 1992 rap "Now I Gotta Wet'cha" — but last November, the game maker attempted to trademark the phrase anyway. Chances are, this was just a clever publicity stunt for the Wii game Donkey Kong Country Returns.
Of Pods and Podcasts: Apple's been aggressive in pursuing tech companies who use the word "pod" in their products, and while most back down, Video Pod maker Sector Labs is willing to go to court. As for podcast, Apple bullied Podcast Ready over the term "mypodder" in 2006, but then clarified that it neither objects to nor licenses the generic term "podcast."
To the Edge and Back: For years, video game makers who wanted to include the word "edge" had to deal with Tim Langdell, whose company Edge Games launched the 2010 throwaway Racers after six years without any new products. A U.S. judge finally sought to strip Edge Games of its trademarks — among them "edge," "cutting edge," "the edge" and "gamer's edge" — in October and suggested that Langdell was "trolling."
Tweets Silenced: Twitter applied to trademark "Tweet" in 2009 "because it is clearly attached to Twitter from a brand perspective," the company explained in a blog post, but it promised not to go after app developers who used the term in their Twitter apps. Nonetheless, in February 2010, Twitter filed an infringement notice with Facebook over TweetKnot's use of the word in its Facebook app. Birders, for now, seem safe.