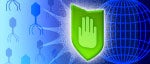 Android-based smartphones are more vulnerable to attacks by hackers and electronic viruses than the iPhone, according to the chairman of the world's largest provider of security software for corporate servers. The remarks were made less than a week after the company, Trend Micro, released its Mobile Security software for Android devices.
"Android is open source, which means the hacker can also understand the underlying architecture and source code,"" Chairman Steve Chang told Bloomberg Businessweek.
"We have to give credit to Apple, because they are very careful about it," he added. "It's impossible for certain types of viruses"to operate on the iPhone."

Google didn't exactly refute Chang's claim in its response to Bloomberg. "On all computing devices, users necessarily entrust at least some of their information to the developer of the application they're using," it said in an email. "Android has taken steps to inform users of this trust relationship and to limit the amount of trust a user must grant to any given application developer."
In the iPhone universe, the amount of trust a user must cede to a developer is less than in the Android realm because Apple reviews all apps before it allows them to be sold through its App Store. Although that kind of quality review doesn't exist in the Android world yet, some vetting of apps will occur when Amazon launches its Android apps store later this year.
As smartphone usage grows in corporations, they'll become more tempting targets for hackers. "Smartphones are the next PC, and once they're adopted by enterprises, data loss will be a very key problem," Chang said.
Trend Micro's Mobile Security app for Android, which it's selling for $3.99, will block viruses and malicious viruses, as well as unwanted calls, on smartphones running the operating system. It also installs parental controls on a phone's web browser. According to the company, the app is the only mobile tool that uses cloud-based security intelligence to protect Android devices from the latest cyber threats.