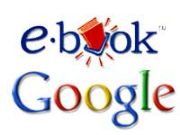 Google is accelerating its push in the e-book space by acquiring eBook Technologies, a company that specializes in both hardware and content distribution for electronic readers.
Google isn't divulging the financial details of the deal, which it announced in a statement Wednesday. eBook is focused on designing and developing technology for creating, distributing, and controlling content to be used on tablets and other portable reading devices, it said.
A message on eBook's website says it will work with Google on "providing a first-class reading experience on emerging tablets, e-readers and other portable devices."
A cached version of the products section of eBook's website explains that its platform includes electronic reading devices, an "Online Bookshelf" (which is filled with the user's personal content), an Internet-based content sales and delivery system, and content conversion and publication tools.
Exactly how Google plans to use all this remains to be seen. But the number of tablets based on its Android operating system is growing rapidly. Also, the deal comes little over a month after Google launched its Google eBookstore, where users can browse and search through "the largest ebooks collection in the world with more than three million titles including hundreds of thousands for sale", according to a blog posted at the time,
Send news tips and comments to mikael_ricknas@idg.com