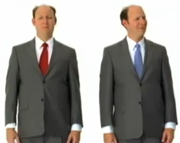 T-Mobile, the fourth largest wireless carriers in the U.S., decided that it won't watch from the sidelines the fight between Verizon and AT&T over the love of iPhone users. The carrier introduced an Apple-style TV advertisement mocking its two bigger rivals, implying that its network and devices run faster than the iPhone 4 on either AT&T or Verizon.
AT&T started a war of words with Verizon this week, a day ahead the Verizon iPhone announcement, saying "The iPhone is built for speed, but that's not what you get with a CDMA phone." Verizon hit back a day later saying "AT&T is known for a lot of things, but network quality is not one of them." Now T-Mobile jumped on board the flaming debate saying the iPhone 4 is slow on either AT&T or Verizon, touting its '4G' nation-wide coverage.
Here's the ad:
"No choice is still a choice" mumbles a grey-suited bald actor depicting Verizon in T-Mobile's ad, which is expected to start airing on TV networks next week. The spot, in the style of "I'm a Mac, I'm a PC" ads from Apple, presents an attractive female character as T-Mobile's myTouch 4G. She talks with a black-suited young man impersonating the iPhone 4, who sits next to two older men acting as Verizon and AT&T (red tie for Verizon, blue tie for AT&T).
The T-Mobile character asks the iPhone 4 whether he has "pretty much 4G nation-wide coverage, like me", to which he replies "No, I'm pretty much slow as either one." "Oh, tough choice," she replies.
While Verizon already switched on 4G LTE coverage at over 40 locations across the country, the Verizon iPhone will not be able to access this high-speed network when launched on February 10. The phone will be able to access the EVDO network, with provides connections of up to 1.2Mbps. T-Mobile is using an HSPA+ network, calling it 4G (though it's not technically 4G), with speeds around 5Mbps. AT&T also calls its HSPA+ network 4G, which achieves connection speeds of around 3Mbps.
Follow Daniel Ionescu and Today@PCWorld on Twitter