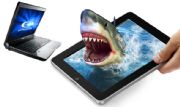 Doom-and-gloom PC prophecies tend to blame the iPad for laptop declines, but IDC and Gartner aren't sounding the alarms just yet.
Both firms placed only partial blame on Apple's tablet for lower-than-expected PC shipments, which in the United States fell by 6.6 percent over the last three months according to Gartner and 4.8 percent according to IDC. Among the contributing factors besides the iPad, according to the two firms: tight recession spending, a waning netbook market and decisions to spend discretionary income on other things besides a PC upgrade.
(Belt-tightening, by the way, didn't seem to affect Apple's Mac sales, which grew at a higher rate over the last three months than the same period last year.)
As Apple Insider notes, both firms seemed careful to avoid calling out the iPad specifically for the PC market's woes, using the term "media tablet" instead and labeling it as one product people might decide to buy instead of a laptop. Speaking to Computerworld, Gartner analyst Mikako Kitagawa resisted the term "cannibalization" to describe the iPad's impact, saying that people were putting off PC purchases after buying the tablet, but not replacing the PC outright.
I agree with Apple Insider that avoiding mentions of the iPad when discussing tablets seems silly, given that most other vendors are just now finalizing their tablet plans. But the research firms aren't ignoring the tablets either. IDC research director David Daoud said in a statement to Computerworld that "a wave of media tablets could put a dent in the traditional PC market."
That's the right call. New categories of computer products are always going to have an affect on existing products — back when netbooks were the hot trend, talk of laptop cannibalization abounded — and the only way the iPad would be an exception is if people were not interested at all. Clearly, that's not the case.
But with global PC shipments at around 350 million in 2010 according to Gartner, compared to roughly 10 million iPads sold, the sky isn't falling on laptops just yet.