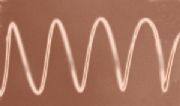 New research at North Carolina State University could lead to stretchable electronics–a way to incorporate electronics into clothing (ThinkGeek's Wi-Fi Shirt not withstanding).
The researchers at NC State haven't yet developed said "stretchable electronics" but have rather created the first coils of silicon nanowire on a stretchable substrate. The rubber substrate can stretch more than double its original length.
"In order to create stretchable electronics, you need to put electronics on a stretchable substrate, but electronic materials themselves tend to be rigid and fragile," says Dr. Yong Zhu, one of the researchers involved in the project, in a press release. "Our idea was to create electronic materials that can be tailored into coils to improve their stretchability without harming the electric functionality of the materials."
NC State points out in a press release that other researchers have been able to create coils using freestanding nanowire, but this is the first time researchers have been able to directly integrate those coils on a stretchable surface.
The nanowire was placed on the substrate by Zhu's team after the substrate was put under strain and placed under specific levels of ultraviolet radiation and ozone to change its mechanical properties.
The new coils can be stretched more than twice their original length (104 percent), but electric performance can't hold reliably to such a large range. Zhu says the team is "working to improve the reliability of the electrical performance when the coils are stretched to the limit of their mechanical stretchability, which is likely well beyond 100 percent."
For the unwashed masses, this means that we're one (significant) step closer to "incorporating stretchable electronic devices into clothing, implantable health-monitoring devices, and a host of other applications."
Like this? You might also enjoy…
Follow Sarah on Twitter (@ geeklil ) or at sarahpurewal.wordpress.com.
Get your GeekTech on: Twitter | Facebook | RSS