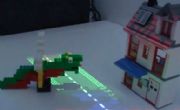 If you're an adult that still plays with Lego bricks, well, you're not alone. Intel's researchers also get a thrill out of building with them, and the company's Seattle research and development lab put Lego bricks–one of our favorite things here at GeekTech–together with something called virtual design enhancement.
Mashable has a demo of a research project from Intel, where researchers were able to develop software that can recognize 3D objects and user gestures in real time. For instance, in the demo (at CES), when someone placed a Lego dragon by toy house, the software projected flames coming from the dragon, setting the toy house on "fire." When they brought a toy fire truck to the scene, the fire went out.
Be sure to check out the Mashable video on YouTube, and read the full story for some of the technical details; it's quite cool.
I know what's all of your minds–when will I be able to play with Legos on steroids? Unfortunately there was no word from Intel on when–or if–this will come available to us anytime soon, but I'm keeping my hopes up!
Like this? you might also enjoy…
Follow GeekTech on Twitter or Facebook, or subscribe to our RSS feed.