At a Glance
Expert's Rating
Pros
Audio quality among the best in laptops
Superb LCD display; excellent 3D Blu-ray visuals
Cons
3D gaming is frustrating and often doesn't work
Short battery life
Our Verdict
HP's Envy 17 3D offers robust 3D Blu-ray, but limited 3D gaming. While it's a solid addition to HP's line, problems with 3D gaming and battery life are a concern.
I took a close look at HP's Envy 17 last September and found a lot to like, plus a few issues that bugged me. So it goes with most products–there's no perfect laptop. Now HP's refreshing the Envy 17, adding a new display and stereoscopic 3D capability.
In fact, the unit HP shipped to PC World had only one minor difference, other than the display, from the earlier version. The new Envy 17 with 3D had a single 500GB hard drive rather than a pair of 320GB drives. The CPU, RAM, Blu-ray drive, and GPU were all the same. So I'm not going to dwell on features like USB ports, processor, or networking–those are all pretty much the same. The carryover AMD Mobility Radeon HD 5850 GPU, though, is a key component in enabling stereoscopic 3D; it may also be a weak link, as we'll see.
One thing that did drop a bit was the performance score on PC WorldBench 6. That's because the battery life of the Envy 17 3D seems significantly shorter–1 hour, 27 minutes, versus 2:19 on the original. That could be because the display's 120Hz refresh rate, needed for stereoscopic 3D, sucks more juice. A single hard drive, instead of two drives in a RAID array, can also impact WorldBench scores, as some of its benchmarks scale well with storage performance.
Let's talk about that display before we dive into stereoscopic quality and performance. The display for normal 2D work is every bit as good as on the original Envy 17. Viewing angles are far better than most laptop displays, color fidelity in digital photographs and videos look accurate; and even black levels in video are surprisingly robust for a notebook PC. About the only thing I'd wish for is a matte finish–the glare from the glossy finish on the LCD panel gets quite distracting at times. I played several standard, 2D Blu-ray movies, including Serenity, Star Trek, and Kick-Ass, and they all looked pretty sweet.
Now let's turn to stereoscopic 3D. The new LCD panel offers refresh rates up to 120Hz, which makes stereoscopic 3D a much more pleasing proposition. The chance of headaches and eyestrain is reduced at higher refresh rates, though if you're like me, long viewing periods may still be hard on your eyes.
HP enables stereoscopic viewing with third-party hardware and software from Tridef. The 3D glasses use the same type of LCD shutter technology as the competing 3DVision products from Nvidia, but the glasses are a little bulkier. That's an issue if you don't wear glasses, but I found them better than Nvidia's glasses in my case, because they fit a little better over my normal eyewear.
Driving the display is the aforementioned Mobility Radeon HD 5850, which is starting to get a little long in the tooth. For gaming in "normal" 3D, it still serves pretty well. But when you use stereoscopic 3D, you need twice the frame rate. That's a difficult proposition for most mobile GPUs. The way to get around performance issues is to cut the resolution to 1280 by 720. Given the reduced brightness and contrast, you won't notice large differences in image quality, and the 3D effect can be quite impressive.
When it works.
Therein lies the rub. Tridef's software solution for stereoscopic 3D gaming is far from perfect, especially when you compare it to Nvidia's 3DVision. When you first launch Ignition (the game-launching software), you scan the system for games, but the utility only found two titles: Dawn of War II and Civilization V. The rest of the games that were installed had to be manually added.
When the games were actually run, the overall experience can become frustrating. For example, two games–F1 2010 and Just Cause 2–gave this little gem of an error when we tried to launch it from the Tridef game launcher app: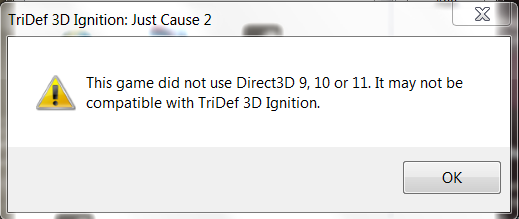 Just Cause 2 is, in fact, a DirectX 10 game. F1 2010, which yielded a similar error, is DX11. I tried updating the Tridef software from its Website, but the problem persisted.
Some games do work well, though imperfectly. I obtained solid stereoscopic 3D with Batman: Arkham Asylum and Dawn of War II. However, some image ghosting was visible, probably due to imperfect 3D image convergence. Moving close to or further from the display didn't have any effect. The Tridef utilities seemed to offer no way to calibrate the screen and glasses. The ghosting was quite faint, and not particularly distracting, but it's still there, and isn't visible when running on an Nvidia-based system.
Civilization V popped up a message in-game that "Tridef Ignition does not yet support DirectX 11 mode for this game. Please try again with DirectX 9."
Running in DirectX 9 did yield pleasing stereoscopic 3D, but at the cost of some cool DX11 effects. Again, Nvidia's 3DVision ran the same game just fine in DX11 mode.
Okay, so stereoscopic 3D games are a mixed bag when trying to run on the Envy 17 3D. What about 3D Blu-ray? The tale here is much better. Both the Disney 3D Blu-ray sampler and the lone 3D test on the THX calibration disc worked superbly. The Disney clips are all animated, and look really good. The sound quality seems the same as on the original Envy 17, which is to say pretty darned good for a laptop, though you may want headphones if you're looking for deeper bass.
Clearly, HP, AMD, and Tridef have a lot of work to do to catch up with Nvidia's two-year lead when it comes to gaming in 3D. However, HP's Envy 17 3D offers a robust stereoscopic 3D experience for Blu-ray 3D, and if that's your primary interest on the stereoscopic side, the Envy 17 3D delivers.