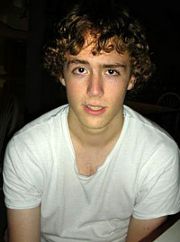 The former college student who was found guilty of hacking Sarah Palin's personal e-mail account began his one-year sentence in a Kentucky prison January 10, despite the judge's recommendation that he serve the time in a halfway house.
Twenty-three year old David Kernell, a former University of Tennessee student and the son of a senior Democrat politician in Tennessee, was convicted last May of felony destruction of records to hamper a federal investigation and of a misdemeanor charge for unlawfully accessing a protected computer. (Kernell was originally charged with four crimes, but was acquitted on a charge of federal wire fraud, and the jury on the case was unable to reach a decision on a charge of identity theft.)
Kernell, who goes by the internet handle of "rubico," was sentenced last November to a year and a day in prison, though the judge on the case recommended that he serve his time at a halfway house instead of at a federal prison. Judge Thomas Phillips indicated Kernell's serving time at the halfway house would reflect the case's "unique circumstances," according to BBC.
Unfortunately for Kernell, the judge doesn't get the last word on matters such as this–if the judge recommends incarceration, it's up to the state and the Bureau of Prisons to determine the nature of said incarceration.
Kernell "hacked" Palin's Yahoo e-mail account in September 2008, back when Palin was running for Vice President of the United States. I say "hacked" because Kernell's advanced technique involved guessing the correct answers to Palin's password reset questions (utilizing the skills of internet research) and, um, changing the password. Kernell then posted the new password to the most respected message board on the internet–4chan.
Within days, the contents of the e-mail account were blasted across the online whistle-blowing website Wikileaks. Within a few more days, the FBI managed to track down and identify the anonymous hacker. Palin has suggested that this hacking incident was the reason she did not make it to the white house.
Kernell's "advanced" technique alerted many to the dangers of Yahoo Mail's (and other free, web-based e-mail service's) "reset your password" feature. Kernell bragged that he was able to do the research necessary to find Palin's password in just 45 minutes–when she'd met her husband, her birth date, and her home zip code. (Here's how to protect your passwords so you don't fall prey to such advanced techniques.)
For better or for worse, Kernell is now in prison–minimum security prison, but prison nonetheless. Perhaps this will serve as a warning to "anonymous" hackers out there who use such advanced methods as internet proxy websites in order to protect their identity.
Follow Sarah on Twitter (@geeklil) or at sarahpurewal.wordpress.com