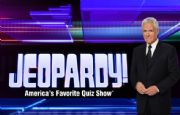 It will be man vs. machine part 2 on Jeopardy next month, and if Thursday's friendly matchup was a sign of things to come, the humans are in trouble. Former Jeopardy champions Ken Jennings and Brad Rutter lost by $1000 to IBM's Watson DeepQA-based supercomputer during a three-category Jeopardy practice round Thursday night. The trio will officially square off for a $1 million grand prize during two Jeopardy matches that will air February 14-16.
Who is Watson?
Watson is IBM's latest supercomputer based on the company's DeepQA software, which combines natural language processing, machine learning and information retrieval. The device is packing 15 terabytes RAM, about 2,880 processor cores that can perform 80 trillion operations a second, and is the size of 10 refrigerators according to Wired. Watson will have to rely on its self-contained databases for answers, and won't be hooked up to the Internet during the Jeopardy challenge.
On stage, a computer monitor will be the only part of Watson people will see, and just like his competitors Watson will have to trigger a buzzer before it can answer a question. When Alex Trebek calls on Watson it will answer in a computer generated voice that is eerily reminiscent of HAL from 2001: A Space Odyssey.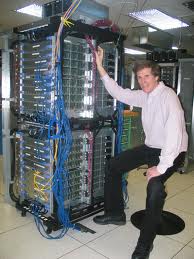 Watson's Tough Road Ahead
Many experts are saying the challenges Watson had to overcome to play Jeopardy are far more complex than the challenges IBM's chess-playing computer, Deep Blue, faced when it defeated chess grandmaster Gary Kasparov in 1997.
In Chess, there are only so many possible moves you can make to respond to your opponent, and all your moves are defined within a clear set of rules.
Jeopardy, on the other hand, will require Watson to handle a much bigger challenge: decoding human language with all its nuances, implied meanings and colloquial expressions. As David Ferrucci, IBM's lead manager for Watson, recently told IDG News, "Natural language processing is so difficult because of the many different ways the same information can be expressed."
That's why the mere fact that Watson is able to compete in Jeopardy–let alone win–is considered a significant milestone for artificial intelligence. If you want to learn more, check out IDG News' great write up on the challenges Watson faces next month.
Also, check out this Engadget video from Thursday night's practice round:
Connect with Ian Paul (@ianpaul) and Today@PCWorld on Twitter for the latest tech news and analysis.