Motorola's Atrix 4G could be the first dual-core smartphone on the U.S. market if it launches on March 1, as rumored.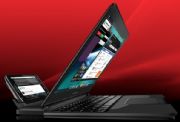 Android Central has posted a leaked AT&T product screen showing a March 1 release date for the Atrix 4G. Officially, the smartphone is scheduled to launch sometime in the first quarter.
But I'm far less curious about the release date — March 1 is at the border of Q1 anyway — than I am about pricing. The Atrix is an exciting phone, not just because of the Nvidia Tegra 2 processor, but because of its optional laptop dock and multimedia dock accessories, both of which can display a desktop application with a full version of Firefox's web browser, powered by the phone itself. This could be huge, provided that AT&T doesn't mess up on pricing.
So I wonder:
AT&T and Motorola are setting the trend for dual-core smartphones; will the Atrix be considerably more expensive than the usual $200 for high-end Android phones?
The docks essentially turn the Atrix into a lightweight laptop or desktop computer; will a regular smartphone data plan suffice, or will AT&T consider dock use as tethering and charge extra for data?
And there's really no precedent for pricing for laptops without processors, RAM or storage. Let's make the lofty assumption that this is the future of computing; how much are these empty shells going to cost?
If Android Central's report is accurate — not a given, as AT&T usually releases phones on Sundays, and March 1 is a Tuesday — we probably won't hear anything official for at least a month. Perhaps the rumor mill can give us some more food for thought before then.