Recent figures from Net Applications show that Windows' operating system market share has consistently dropped since 2007, and is likely to dip below 90 percent when this month's figures are released. Back in November 2007, Windows held just under 96 percent of the share.
Whenever anybody visits a Website, they leave behind a calling card stating what browser and operating system they're running. Net Applications takes these statistics from 40,000 sites in order to measure OS popularity.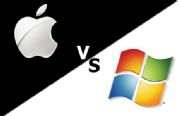 Linux isn't stealing the market share. In fact, the figures show the Linux market share held mostly steady during 2009-2010, at between 0.9 and 1.1 percent, after rising steadily from 0.65 percent in November 2007 (no doubt down to the rise in popularity of Ubuntu). So, sadly, the Linux revolution is still somewhat overdue.
Macs are providing a stronger challenge to Windows, with a share of 3.43 percent in November 2007 growing steadily to 5.02 percent at the end of 2010. In other words, five in every 100 computers right now runs Mac OS X–although the Mac share might be even higher, bearing in mind some Mac owners run Windows.
However, the biggest market share thief is mobile devices, in the form of cellphones and tablets, which have seen the fastest growth. iOS, Apple's mobile phone OS that runs on the iPhone, iPod Touch and iPad, grew from 0.24 percent in January 2009, to 1.69 percent in December 2010, and Java Mobile Edition–which powers the browsers in many mobile phones–grew from 0.22 percent to 0.91 percent in the same period
If these trends continue then the future will be a pluralistic computing universe, in which users demand the freedom to work on many different types of computing device. The desktop PC running Windows won't decline in importance; it'll just have to share the stage.
Let's be honest: nobody can complain that the PCs reign has been anything but lengthy and glorious. Few other items of office equipment we used back in the 1980s have had such longevity. Telexing is pretty rare, and faxing is limited to a handful of special situations. And when's the last time you saw somebody flicking through a Rolodex?
The original PC was all about empowerment of the individual: All of a sudden people could type their own letters, for example, without having to rely on a typist. They could work out their complicated figures without having to rely on an accountant (and they didn't have to be good at math either). Creating a presentation could be done without a graphic designer.
However, the PC also came at a price: generations of workers were tied to their desks and spent 90 percent of their working life staring at the same old screen. Laptops were usually only for those who needed them, such as those who travel. Whatever the case, it's only in recent years that laptops have become truly portable.
A new computing revolution is underway. The new generation of workers demands the same amount of empowerment as back in the PC revolution. But this time it has to come through portability and plurality–tablets, smartphones, netbooks, and laptops.
If you don't believe me, visit a lecture theatre on any college campus. Every single student will have a laptop. In other words, the next generation of workers has only ever known a computing landscape of portable devices. They know the advantages and they won't accept being anchored to a desk and a traditional PC. Above all, they realize that kind approach to IT isn't good for business. A smart company is one that realizes this, rather than burying its head in the sand.
Keir Thomas has been writing about computing since the last century, and more recently has written several best-selling books. You can learn more about him at http://keirthomas.com and his Twitter feed is @keirthomas.