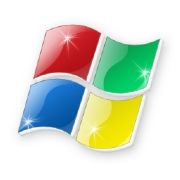 Though Microsoft doesn't make a big deal of Windows 7's many networking improvements and new features, they offer a fine reason to upgrade from XP. There used to be many reasons to skip migrating to Windows 7; but as the operating system matures and XP ages, Windows 7 is becoming a worthwhile update.
For starters, Internet Explorer 9–arguably Microsoft's best Web browser ever–will work only on Windows 7. On the other hand, we currently have lots of excellent Web browser choices, so the promise of IE 9 alone may not be enough to tempt you.
Fortunately, Windows 7 has lots of other excellent networking features that you shouldn't overlook. Here's a closer look at what these capabilities mean for consumers and businesses.
Libraries
Windows 7 Libraries are meta-folders that let you gather files from multiple sources, including network files and directories, into a single folder view. Libraries are also a way of organizing folders to simplify finding, sorting, and manipulating files that have common content sets. For example, you can have one library for all your photos even if they're scattered across your PC, your spouse's laptop, and a network-attached storage (NAS) drive.
By default, Windows 7 comes with four "local" Libraries: Documents, Music, Photos, and Videos. These are its take on the former My Documents folder that earlier editions of Windows used. The key difference is that in a Windows 7 library, the actual files can be anywhere on your computer or network. Once you've entered a photo's locations in the Photos Library, you don't need to worry about it anymore. Photos located in any of the various directories will automatically appear in your Photos Library. The same is true of any other kind of file that you track with a Library
HomeGroup
With HomeGroup, Microsoft's latest take on peer-to-peer networking, you or a network administrator can make Libraries available to other Windows 7 users.For example, if you choose to let others access your Original Photos archive, you can make it a publicly available folder so that other people on the network can access the photos in it. HomeGroup also lets you share printers.
Microsoft improved this style of networking in several ways this time around. First, HomeGroup requires password security before PCs can be connected to the network. Once such security is in place, you can require users to enter a password before accessing HomeGroup files. In the past, Windows was far too lax about letting users set up home networks that were wide open to anyone who sat down at a PC.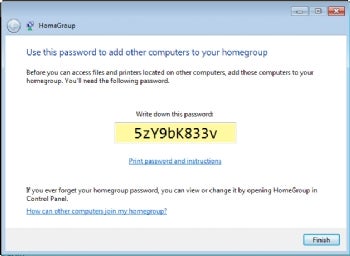 Even though it's more secure, HomeGroup is easy to set up, thanks to the included setup wizard and configuration dialog box. By default, HomeGroup makes all of a computer's Libraries sharable. However, Windows 7 makes it easy for you to decide what to share and what not to share.
You can also share individual folders, but Libraries are better for sharing files. Users and administrators have the option of letting other people view but not edit Library files.
And unlike in earlier takes on Windows peer-to-peer networking, a PC can belong to both a HomeGroup and an older business domain or Active Directory (AD) network.
On the negative side, HomeGroups must consist of Windows 7 members only. Mac OS, Windows XP, and Windows Vista won't work with it. Still, if you're moving all of your PCs to Windows 7, it's a handy and easy way to set up peer-to-peer networking.
Easy Connect
With Easy Connect and its underlying Peer Name Resolution Protocol (PNRP), your help-desk, with your permission, can remotely connect to your Windows 7 PC to fix HomeGroup problems. This arrangement is much superior to the traditional "What do you see on your screen now?" back-and-forth of past years.
Remote Assistance did the same kind of work in XP and Vista. But Easy Connect is simpler and more secure. In addition to adopting password security, Easy Connect uses Windows 's built-in Teredo IPv6 network protocol tunneling over the Internet to provide more-secure connections between you and your tech-savvy troubleshooter.
You may not need your IT department's help with networking problems, though. Windows 7 comes with an update on Vista's diagnose-and-repair feature, called 'Fix a network problem'. This automatic check-and-fix utility can't solve every network problem, but it's useful for cleaning up the most common difficulties.
Location-Aware Printing
Besides these home-user features, Windows 7 has lots of improved capabilities for business users and network administrators. Suppose, for instance, that you regularly take your business laptop home and then back to work. With Windows 7 Professional and Ultimate, you can use location-aware printing to switch printers automatically, depending on where you are. Afterward, Windows 7 will automatically send your print jobs to your study's printer (if you're at home) or to your office's main printer (if you're at work).
View Available Networks
Users on the road will appreciate Windows 's new VAN (View Available Networks) feature, which gives you a clear, convenient look at all available network options, from Wi-Fi to VPN (virtual private network) to 3G. It's a small but very useful feature.
Next page: Manage quality of service–and features specific to business editions of Windows
URL-Based Quality of Service
Quality of Service (QoS) is invisible to Windows 7 users, but the OS lets network administrators set up QoS policies based on Web addresses–that is, on URLs. With this feature, a system manager can set arrange for traffic from the local branch's SharePoint server or from the corporate server that hosts training videos to receive higher network priority than, say, traffic consisting of YouTube videos of zombies vs. gamers.
With more and more applications' being hosted on servers, enabling administrators to easily ensure that high-priority network traffic gets through becomes more crucial than ever.
Direct Access
Two major network features in Windows 7 are available only to Enterprise Edition and Windows Server 2008 R2 users. DirectAccess is, in essence, an IPSec VPN that runs–thanks to Teredo again– over IPv6 on ordinary IPv4-base LANs and the Internet.
Officially, Microsoft claims that DirectAccess isn't a VPN, but for practical purposes that's exactly what it is. DirectAccess provides both VPN services and a way for network admins to push software updates and modify Group Policies to the laptop of a user who is thousands of miles away from your company's nearest IT staffer.
DirectAccess also gives network administrators the option to permit laptops to go directly to the Internet for most of the users' network needs while sending and receiving only office traffic through DirectAccess. With ordinary VPNs, once you're on the network, all of your traffic gets routed through the office, regardless of its actual content.
Another plus for DirectAccess is that, unlike with a VPN, you don't have to log in to it. Once you have DirectAccess set up, the connection is always on. With DirectAccess, you can't be caught out by Firesheep or other all-too-simple network snooping tools.
BranchCache
The other important feature in Windows 7 Enterprise Edition and Windows Server 2008 R2 is BranchCache. This capability puts a Windows 7 spin on the old networking cache idea of retaining a local copy of frequently accessed information. With BranchCache, if you and your coworkers look at the same corporate document frequently, the software will create a local copy and keep it in your branch's Server 2008 R2 Server.
Alternatively, if you don't have one of those, you can use Distributed Cache, an arrangement that involves directly caching the files on other local Windows 7 computers for distribution to other Windows 7 clients as needed.
When you look at the whole package, Windows 7 offers a lot of great networking features. Are they enough to persuade you switch OSs? Ultimately that's up to you, but for many businesses–especially ones that are moving their servers to Windows Server 2008 R2–the move is well worthwhile.