Facebook has reversed its decision to let developers access your home address and mobile phone number through third-party applications and websites. The decision came days after Facebook announced the new policy on its developer blog late Friday.
"Over the weekend, we got some useful feedback that we could make people more clearly aware of when they are granting access to [their home address and mobile phone number]," Facebook said in a blog post announcing the reversal. "We agree, and we are making changes to help ensure you only share this information when you intend to do so. … We look forward to re-enabling this improved feature in the next few weeks."
The Original Plan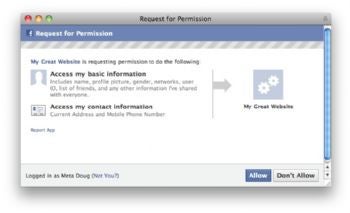 Facebook's original intention was to let third-party developers request your home address and phone number through the pop-up windows you see the first time you use a Facebook game or log in to a website using your Facebook ID. The new feature would not have allowed you to indirectly share your friends' home addresses or mobile phone numbers. Facebook believed the new policy would make it easier for you to fill out membership forms on a website with just one click or to sign up for mobile alerts for shopping deals in your area.
The problem is that it's far too easy to miss the fact that an application or website is asking for some fairly critical information linked to your identity. There are also security implications to consider, as security firm Sophos pointed out on its blog on Saturday. "Shady app developers will find it easier than ever before to gather even more personal information from users," Sophos said. Malicious software on Facebook could be used to harvest phone numbers for SMS spam messages, knowing your home address could make it easier to steal your identity or your information could simply be sold to unscrupulous marketing firms, according to Sophos.
Given these potential security issues, Facebook says it is pulling the new feature until it can figure out how to properly notify you that an application wants to see your home address and phone number.
Facebook would only have access to your home address and mobile phone number if you've entered it into your profile. To see if you've done this, log in to Facebook and visit your profile page, click on the "Info" link in the left column and scroll down to the bottom where it says "Contact Information." If you would like to edit your Facebook profile's contact information click on the "Edit" link to the right of "Contact Information."
What Facebook Should Do
Facebook argues that you only share your Facebook profile information with third parties when you explicitly choose to do so. But this position is somewhat disingenuous. Facebook has a habit of opening up more and more user data to third parties despite the fact that users expected this data to remain private. That was one of the reasons why 14 consumer protection groups led by the Electronic Privacy Information Center filed a complaint against Facebook with the Federal Trade Commission in 2010.
Secondly, the fact is developers get to decide which types of information they want to demand from Facebook users. If you disagree with an application's desire to see your political views, for example, you have two choices: don't use the application or hand over your information anyway so you can use the service.
That's not much of a choice. If Facebook really wants to empower you to have control over your data, then it should give you the option to refuse to hand over your data and still be able to use the third-party app or service. True, there may be instances where an application must have a piece of information to work properly. After all, a birthday calendar on Facebook wouldn't be of much use if it couldn't access your birthday and your friends' birthdays. But this is a minor problem that could be solved if Facebook required third-party developers to explain exactly why they want each piece of your profile data they are requesting.
Facebook should also consider an approval program for developers seeking to gain access to your home address and phone number. A formal review process would go a long way to allaying concerns about personal data being used irresponsibly or even criminally.
Facebook should be applauded for reversing its decision on allowing third-party developers to access your home address and phone number. But we'll have to see what the world's largest social network comes up with when it reintroduces this feature.
Connect with Ian Paul (@ianpaul) and Today@PCWorld on Twitter for the latest tech news and analysis.