Almost 90 percent of iOS device owners are running the latest major revision of the OS, according to figures released by a prominent iOS app developer. In a stark contrast, Google's latest Android version (2.3) is installed on only 0.4 percent of devices, showing the divide between Android releases, also known as fragmentation.

Unlike Google, Apple does not release exact figures of how many people run the various versions of its mobile OS. But David Lieb, chief executive of Bump, the app that allows you to swap data with other users by bumping two devices together, says that its download and usage base (estimated at around 15 million downloads) makes it for a representative sample of iOS users.
According to the figures from Bump, 89.73 percent of the app's iOS users are running iOS 4.X, with just 10.25 percent stuck with the older iOS 3.X (pre-multitasking). Breaking down the 4.X segment, the figures show that a majority of users (52.89 percent) run iOS 4.2.1 and more than a quarter (27.5 percent) run iOS 4.1. iOS 4.2.1 was publicly introduced in November 2010, meaning that a significant number of iOS users are already running the latest version of the OS available.
Google's Struggle With Fragmentation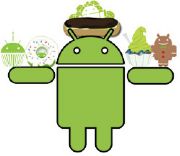 If the Bump figures are considered accurate and representative, this only comes to show that Google is still struggling with Android to get the latest major revision of the OS on users' devices. Publicly introduced in December, Android 2.3 can only be found on 0.4 percent of Android devices, according to Google's own measurements. Android 2.2 is on 51.8 percent on devices running the OS, and 35.2 percent of devices still run Android 2.1, introduced in January 2010.
Called platform fragmentation, Android's unequal spread across devices is not entirely Google's fault. Because Google is licensing Android free to device manufacturers, which then customize the OS to their liking, OS updates are often slow to arrive, leaving many users disgruntled. Only Google's own Nexus One and Nexus S devices usually receive the latest OS updates within days.
Other users are left at the mercy of wireless carriers (Android OS updates are usually delivered over the air) and phone manufacturers, who would have a vested interest to hold back new features on older phones in order to sell more new devices. Samsung and T-Mobile have been accused of such practice, while Motorola, maker of some of Verizon's most successful Droid devices, does not have a great track record at sending OS updates to users fast.
Follow Daniel Ionescu and Today@PCWorld on Twitter