Most of us don't like paying for antivirus (AV) software, but at least home users can rely on one of the free options, such as Microsoft Security Essentials, avast!, or AVG Free.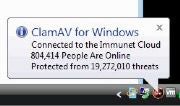 However, businesses usually have little choice but to pony up cash. Microsoft Security Essentials allows up to 10 corporate users within its license agreement, which is helpful but doesn't allow for small business growth.
Well, there's a new kid on the block that integrates two key computing buzzwords: open source and cloud computing.
ClamAV for Windows has just released a beta of version 3.0 of its software, and it's well worth a look for corporate users on a budget.
The virus-scanning engine is provided by ClamAV, a stalwart of open source AV defenses, especially on server systems. The virus definitions are provided by both ClamAV and the Immunet Protect, a cloud-based community project that relies on 'collective immunity'–users submitting suspicious files for analysis.
The key new feature in version 3 is offline scanning. Because of its cloud nature, ClamAV for Windows ideally requires an Internet connection in order to check files against virus definitions, but with version 3 the ClamAV engine and virus definitions are also held locally, so virus scans are possible when the Internet isn't present.
Perhaps ironically, one of the things I tend to do if the Internet goes down is to perform full virus scans, bearing in mind there's usually little else I can do, so this is a useful feature.
When I ran the software for testing purposes it told me it protected against just over 19 million threats, and that around 800,000 people were connected to the Immunet Protect cloud alongside me. It's difficult to argue with such figures.
The test virus scan I ran wasn't blazing fast, but I was happy to let it run in the background, and it seemed to play nicely with other software without causing any significant slowdowns.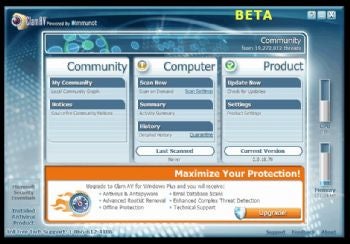 It's possible to upgrade to a "plus" version of the software, the main purpose of which is to sponsor the Immunet and ClamAV community projects.
However, doing so also brings the full removal of viruses, whereas the free edition is only able to quarantine them. Arguably there's not much difference, apart from the manual labor involved in deleting suspicious files.
This is a beta version of the software, so perhaps it isn't ready for deployment on your systems just yet. There's no word on when the final release will make it, and it seems that the beta itself was due in November last year, so perhaps we shouldn't hold our breath.
But it's definitely a project worth bookmarking, especially for the IT manager on a budget. An informal FAQ about ClamAV for Windows can be found here.
Keir Thomas has been writing about computing since the last century, and more recently has written several best-selling books. You can learn more about him at http://keirthomas.com and his Twitter feed is @keirthomas.