"Froyo" and "Gingerbread"–two delicious treats that Android smartphone users around the world crave–are the latest versions of the Android mobile operating system. Both offer speed as their main selling point, but each has also come a long way from the original Android and spiffed up the user interface (Gingerbread in particular).
However, with great power comes great confusion. Although these editions of the Android OS make your smartphone more feature-rich than before, it's not always obvious how to take advantage of the improvements.
Read on for a comprehensive list of the most compelling new features, plus tips and tricks. These items are specific to Froyo/Android 2.2 (which released last summer and runs on many phones, including the Motorola Droid X and the HTC EVO 4G) as well as to Gingerbread/Android 2.3 (which came out in December and is currently available with the Samsung Nexus S).
And if your smartphone is running Gingerbread, then you're in luck–the tips for Froyo also apply to you.
Android 2.2 Froyo Tips and Tricks
1. Store apps on your SD Card: For owners of older phones with little on-board storage for applications, this feature is huge. Provided that the developer of an application allows it, you can move the application to your SD Card. Go to Settings, Applications, Manage Applications, and then click the app you want to move. You will see an option called Move to SD Card. Click it, and your app will move over, and nothing will be lost. (You can move it back to your phone's built-in storage later if you want, by clicking Move to Phone in the same place.)
2. Chrome to Phone: If you use the Chrome browser on your desktop, this add-on is a must-have. (You'll also encounter a version for Firefox called Fox to Phone, but it comes from a third-party developer.) First, install the Chrome to Phone extension in your Chrome browser; then, from the Android Market, download and install the Chrome to Phone app on your handset. Afterward, if you run across a Web page you like, you can click your new 'Chrome to Phone' button in your browser to send it instantly to your phone. You can also highlight a phone number and click the button, and the number will open in your phone's dialer. Or send directions, and they'll open up in Maps on your phone. If you highlight some text, it will copy to your phone's clipboard, ready for pasting.
3. Get Flash: Android versions 2.2 and newer support Adobe Flash in the browser. First, you may have to download Flash from the Android Market (search for "Flash Player 10.1"). It's great to have this option. Some Web pages that are loaded with Flash can really slow down your phone, however.
4. Block automatic Flash loading: Luckily, you have a way to set the browser so that it doesn't automatically load Flash content. From the browser, tap Menu, More, Settings and scroll down to Enable Plug-Ins. Click that, and then select On Demand. Then restart the browser. Now when you reach a page with Flash content, you will see a box with an arrow in it; tap it to activate that piece of Flash content.
5. Better multitasking: In previous versions of Android, long-pressing the Home key would give you access to the last four apps you used. When you long-press the Home key in Froyo, it gives you access to the last eight.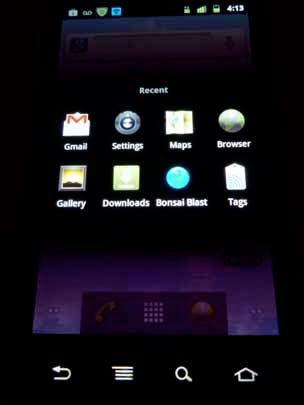 6. Switch Gmail accounts: Within Gmail, simply tap the name of the account in the top-right corner to quickly toggle between them.
7. Better camera controls: Settings for Flash Mode and White Balance are now right on the main camera window (no more searching through menus).
8. Gallery stack previews: Use a pinching gesture on a stack of photos in your gallery to get a quick preview of what lies under that stack.
9. Desktop previews: From the desktop, long-press the Apps button, and up pop small preview images of all your desktop panels. Click one, and it will whisk you off to that screen.
10. Phone and Browser icons on the desktop: The Phone app and Browser app now have a permanent home on the desktop, sitting on either side of the Apps button. Not only does this give you quick access to both regardless of what desktop panel you're on, but it also frees up space on your desktop for other icons.
Froyo Voice Actions
By itself, Froyo has incredible voice-recognition capabilities–but if you have Google's most recent Voice Search (you may need to update it from Android Market), you have a ton of ways to control your phone with your voice. Just long-press your phone's Search button (set Voice Search as the default, if it isn't already), and when 'Speak Now' pops up on screen, say something out loud. Here are some examples of what you can do with Voice Actions.
11. Call someone: Say "Call [name of contact], [phone type]," as in "Call Whitney Houston, Mobile." The phone will give you a moment to confirm or cancel, and then it will dial your contact. (Note: Whitney Houston's phone number does not come included in Froyo…maybe in Honeycomb?)
12. Send a text message: Say "Send text to [contact name], [message]." Example: "Send text to Andy Rubin. When will my phone get Gingerbread question mark." (Remember that you have to say "question mark" in order to produce a question mark, or "period" in order to add a period.)
13. Get turn-by-turn directions: Say "Navigate to [address, city or business name, city]." Examples: "Navigate to 826 Valencia, San Francisco, California" or "Navigate to Carnegie Hall, New York, New York." This will open Navigator with your chosen location already entered in.
14. Call a business: You don't even need to have the phone number. Say "Call [name of business], [city/state]." Example, "Call Red Hot Restaurant, Brooklyn, New York."
15. Write a memo: Say "Note to self, [body of text]." Example: "Note to self, Call Verizon to see why my phone doesn't have Gingerbread yet." The text will be e-mailed to you, from you.
In Video: A Look Inside Android 2.2 'Froyo'
Android 2.3 Gingerbread Tips and Tricks
16. Find downloads with the new Downloads Manager: Have you been wondering where all the stuff you downloaded goes? Now it's easy to find all of those files in one place. Open your apps drawer, and click Downloads.
17. Manage apps: It's easier than ever to wrangle applications. From the home screen, tap the Menu button and then Manage Apps. (Note: You will see this option only if you are using Google's default launcher.) From there you can get more information about your apps, review permissions, delete apps, force-quit them, or even transfer apps to your SD Card.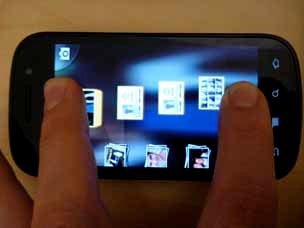 18. Quickly preview pictures in a Gallery stack: When looking at your various photo stacks in the Gallery, touch a stack with two fingers and then spread them. This action will fan out the stack like a deck of cards, and you'll see thumbnails of all of the photos in that stack flow from one finger to the other.
19. The orange bumper bar: Saw an orange glow and thought you did something wrong? Worry not. When you are scrolling through a list (such as your Gmail inbox) and you hit the bottom, you'll notice a light orange glow there. It just exists to let you know that you can't go any farther. It also does this when you're side-scrolling, or when you reach the top of a list.
Next page: Near Field Communication's promise, plus keyboard shortcuts
20. Improved cursor control: The cursor was once one of Android's weak points, but Gingerbread just made it fantastic. When you click on text in a text-entry field, an orange arrow appears where the cursor is. You can touch the cursor and drag it to the exact spot where you want it to be.
21. Copy and paste text from a Web page: Copy-and-paste from the browser has been simplified. Just long-press on a bit of text, and two handles will appear. Drag the beginning handle and the end handle so that they surround the text you want to copy, and then press within the highlighted region. To paste, go to any text-entry field, long-press, and select Paste.
22. Copy and paste text from the Gmail app: With an e-mail message open, press the Menu key. Then tap More, Select Text. Afterward, the action operates in the same way as described above.
23. Make and receive VoIP calls: With Gingerbread, you can use your phone to place and receive Voice over Internet Protocol calls over Wi-Fi without using any third-party applications. You will first need to sign up for a SIP service, such as SIPgate. Once you've done that, from your home screen, press Menu, Settings, Call Settings; scroll down to Internet Call Settings, and press Add Accounts. You then must input your SIP account username, password, and server (the interface on your phone may call this info 'SIP credentials', 'SIP URI', or 'SIP ID'). You can also configure optional settings there (which you may or may not want to do, based on your SIP provider).
Now go back to the Internet Call Settings menu, and check the Receive Incoming Calls box. Your contact listings will have a SIP phone icon when you view them, regardless of how you view them. Simply touch the SIP icon next to a contact to call the person via SIP. Why do this? It could save you from going over your wireless carrier's plan minutes, or allow you to make calls using Wi-Fi when you're not near a cell tower. For more, watch this video walk-through of the SIP feature.
24. The Near Field Communication radio: What does NFC do? Well, not much…yet. At the time of this writing, software limitations will allow your phone's NFC radio to act only as a reader, not a transmitter. But since software is being developed, that situation will probably change soon, likely in an incremental Gingerbread update. What you will be able to do, essentially, is use your phone as a high-tech credit card and make electronic payments with it. In theory, when making a purchase at a store, you would just touch your phone to the register's sensor, and a message would pop up on your phone asking if you want to authorize Vendor X for Y dollars. Currently, though, as the radio can only read, it functions about the same as a QR code reader does: It can get a link, some text, a phone number, and so on.
Gingerbread Keyboard Tips
Android's stock keyboard has undergone a major overhaul in Gingerbread, and it's not merely a face-lift. You will notice that it's faster and more accurate, and that it supports multitouch gestures. Here are other key differences.
25. Autocomplete and the spacebar: While you're typing, when autocomplete has a suggestion ready, the spacebar will light up orange. At that point, pressing the spacebar will choose the highlighted word in the autocomplete bar. Also note that the autocomplete bar is scrollable: If you don't see the suggestion you want at first, swipe to the left on the autocomplete bar. You'll often find three bars' worth of suggestions.
26. Capitalizing a word: This is where multitouch comes in. To capitalize a word, you no longer have to press Shift (which turns the entire keyboard into caps) and then select–you can now press Shift and the letter you wish to capitalize at the same time (as you would on a desktop keyboard).
27. Quick replace: Made a mistake? You can tap on any previously typed word, and the autocomplete bar again repopulates with all of its suggestions for what that word should be. If you see the word you want, simply tap it, and it will replace the incorrect word.
28. Add a word to the dictionary: When you key in a word that the dictionary doesn't yet know, touch it in the autocomplete row to put it into the text field. The autocomplete row will then say, 'Touch again to save'. Touch to add it to the dictionary.
Access Punctuation, Numbers, and Special Characters.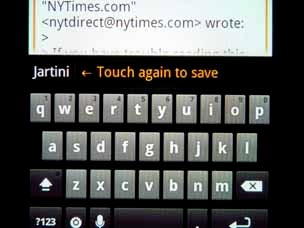 29. Any key: Press and hold any key, and if it has a number or a special symbol behind it, those options will pop up in a row above it. For example, hold down the R key, and you get the number 4. Hold down the E key, and you get access to 3, é, è, ê, and ë.
30. Period key: Press and hold the "." key (the period key) for instant access to some of the most commonly used punctuation.
31. Autocomplete: After you've pressed the spacebar and are in between words, the autocomplete bar populates with the most frequently used punctuation. Again, this bar is scrollable, giving you three rows of options.
Hungry for Froyo and Gingerbread
At the time of this writing, roughly 52 percent of Android phones have Froyo and the rest are waiting to get it, as a full 35 percent are still stuck on Eclair, version 2.1.
Even fewer Android phones have Gingerbread–just 0.4 percent at the time of this story, which makes sense considering that only the Nexus S handset runs it right now.
It's a shame that the hardware manufacturers and the carriers take so long to roll out updates, because each has been a major leap for the Android OS, with greatly improved speed, stability, battery life, and functionality.
For a more general introduction to Android tips and tricks for version 2.0 or later (most of which still apply), see "Master Google Android: 40 Tips and Tricks."
Do you have a great Froyo or Gingerbread tip that we missed? Please share in the comments section below.