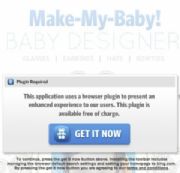 A website that hijacked home pages and altered default search engines in browsers won't be making any more money off Microsoft's search engine Bing.
The website, Make-My-Baby, has been terminated from the company's affiliate-publisher program. It appears to have been taken down following Microsoft's action. The site was inducing its visitors to install a toolbar in their web browsers that made Bing the default search engine and changed the browser's home page to the Bing landing page.
"Distribution deals and affiliate programs are an important part of how all search engines introduce their product to customers," Microsoft explained in an email to Danny Sullivan at SearchEngineLand.com. "That said, we have been made aware of some practices from a specific publisher that are not compliant with the guidelines, best practices and principles put in place by Bing. As a result, the relationship with this publisher will be terminated."
The dubious practices of Make-My-Baby came to light after a story by Ad Age claiming the site was the third largest advertiser on Facebook caught the eye of Matt Cutts at Google.
"I wonder how many people are installing this software without reading the fine print that says 'Installing the toolbar includes managing the browser default search settings and setting your homepage to bing.com?'" Cutts mused.
By the way, Sullivan reports that not only is Make-My-Baby not the third largest advertiser on Facebook, but Facebook says the outfit doesn't advertise on the social network at all.