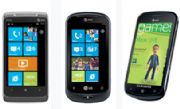 So just how well are Windows Phone 7 handsets selling?
Last week, LG executive James Choi said his company's sales of WP7 phones were disappointing. But a month ago, Microsoft suggested consumer demand was sky high when it announced sales of 1.5 million handsets within two months after the WP7 launch. Upon further review, however, it became clear that Microsoft was crowing about sales to wireless carriers and retailers, not to end users.
A Groupon deal spotted by TechCrunch hints that consumer demand for WP7 phones isn't all it could be. The Microsoft Store in Oak Brook, Illinois has halved the price of two WP7 handsets: The Samsung Focus (AT&T) and HTC HD7 (T-Mobile) are each $49-51 percent off the regular $99.99 price. The limited-time discount runs through Wednesday.
Now, I'm not here to disparage Windows Phone 7, an innovative mobile OS that has received mostly favorable reviews despite missing some key features, including copy and paste and third-party multitasking. And the Samsung Focus is currently #9 on PCWorld's list of Top 10 Cell Phones. But when a pair of new WP7 smartphones sells for half off, consumer demand probably isn't where it should be.
And what should Microsoft and its hardware partners do? Bargain-basement offers like today's Groupon deal may help lure consumers who'd otherwise gravitate toward the iPhone and dozens of Android handsets. But I suspect that Microsoft has a bigger problem on its hands. For many smartphone shoppers, particularly the younger set, "Windows Phone" anything simply sounds tired and uncool, even if Microsoft's mobile OS happens to be pretty good.
Perhaps Windows' desktop legacy is to blame. Microsoft's venerable OS is fine for your dad's beige Compaq desktop. But for smartphones? Not so much. The brand may hinder rather than help sales of WP7 devices, particularly in the consumer market.
Contact Jeff Bertolucci via Twitter (@jbertolucci ) or at jbertolucci.blogspot.com .