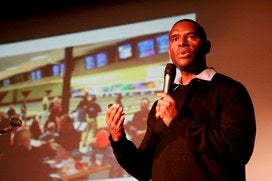 Social media isn't isolating us as we tap on our laptops, smartphones and tablets; rather, we're becoming "hypersocial" in our virtual, avatar-populated environment, suggests researcher and author S. Craig Watkins. Rather than gathering in, say, the bowling alleys that were social hubs in the 1950s, we Wii-bowl with companions nearly anywhere on the globe.
The author of "The Young and The Digital," a book about today's so-called digital natives, visited that always-on generation Tuesday evening, speaking to students at Western Washington University in Bellingham, Washington.
Watkins rejects some researchers' laments that technology isolates us, noting that multiplayer online games cultivate friendships across long distances, and Facebook helps childhood friends keep in content when they move geographically. "There's nowhere we can't connect to our friends and our network," he says.
And for the 18- to 25-year old "digital natives," it's the default for building relationships and communicating, he told his unsurprised audience. Ironically, though, the young person who rejects aspects of digital life and eschews a Facebook page, for example, may experience isolation from peers. "One risks alienation," he says. "Social media is the way young people plan their days, run their lives. If you're not part of that world, you risk becoming disconnected. It's a compelling question, unique to your generation."
Some are getting savvier about their online personas, he notes; rather than tidy their Facebook pages for the sake of prospective employers, they maintain two sites, restricting one to trusted friends.
Social Shift
Watkins offers some interesting statistics. Facebook's 500 million members worldwide spend 700 billion minutes each month on the platform, he says. It's no surprise that a massive majority of 18- to 25-year olds are on Facebook, and it's also been noted that the site's population has spiked in age as baby boomer moms and dads sign up, as well as businesses and organizations. But Watkins also claims that youth of color are logging on via mobile devices at greater numbers than their white peers. He says this is true of both black and Latino youth.
What else lies ahead, according to the sociologist of digital youth? Mobile access will dominate within ten to 15 years, he says, led by those young digerati. He says 75 percent of 18- to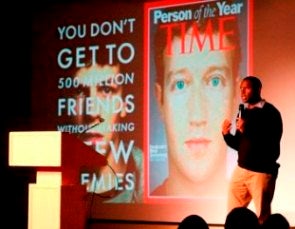 25-year-olds own a mobile device today, up from 9 percent in 2007.
He suggests that schools may need to change teaching methods to better reach future students. At least many are now using digital tools, and sometimes even teaching online ethics and etiquette, instead of trying to ban them. His fifth-grader's school just approved use of e-readers.
"Our kids are changing, but what about our schools?" he asks. "21st century kids are walking into 19th and 20th century classrooms." We need to hurry, Watkins says, noting that the ever-younger "digital tipping point" at which kids go online of their own choice (as opposed to parents creating a newborn's Facebook page). Some 18-month-olds are learning about digital devices today, and the schools need to be ready when they enter kindergarten.
Digital communications are encouraging kids to write more, which is a positive, he notes; but they're also more comfortable writing in texting style and sometimes have trouble "code switching" to traditional prose, which could become a larger problem.
And Internet addiction may be on its way to being declared a social disorder, Watkins acknowledges. One presumes treatment would not be handled via WebMD.
He is less worried about saying the "access gap" has closed after successful federal efforts to wire schools and provide community Internet services, but wonders about "the participation gap" and Facebook holdouts who reject their peers' communication of choice.
Watkins, who has studied youth culture for more than a decade and digital social systems for the past six, is beginning a three-year study on the use and evolution of social media platforms, including its social and demographic consequences and even health implications.
He's clearly aware that trends may change quickly when dot-coms shift in the digital wind. MySpace — once the reigning monarch of social networks — was abandoned in droves by users who thought Facebook offered them more control over who gets access to their data — "and now Facebook seems to be turning its back on that," he says, in reference to Facebook's frequent privacy policy changes and its users' complaints about inadvertent oversharing, even among the young and the digital.